There are a number of theories as to why dogs love balls. One theory is that it stems from their predatory instincts. When dogs see a ball, they may instinctively see it as prey and want to chase after it.
Another theory is that chasing after a ball satisfies their natural desire to run and be active. Regardless of the reason, there's no denying that dogs love balls!
There's just something about a ball that dogs can't resist. Maybe it's the way they bounce, or the fact that they're so easy to chase. Whatever the reason, dogs love balls!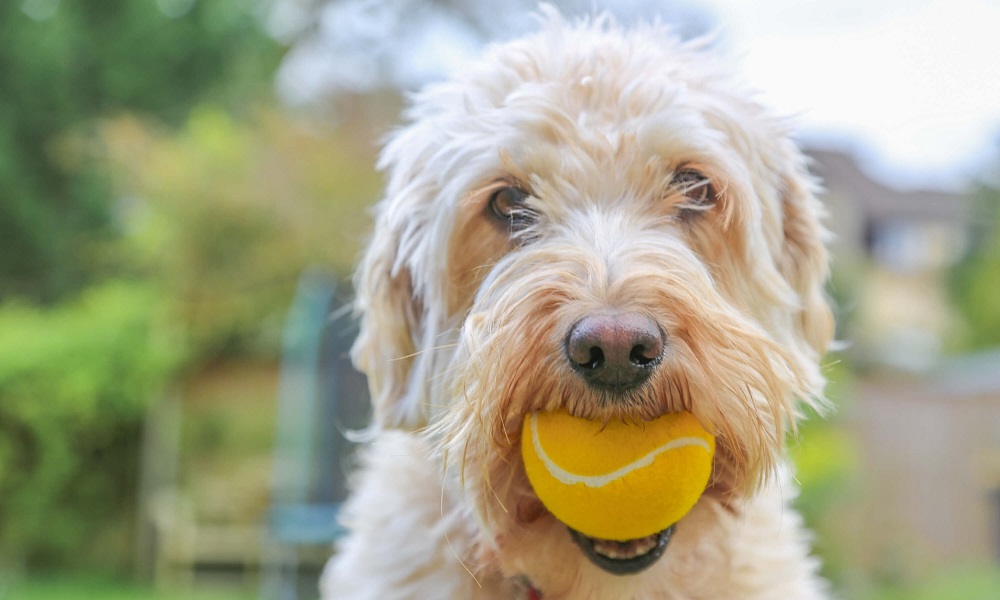 Why Do Dogs Like to Retrieve Balls?
Dogs are highly social animals and love to play. When they see their owner throwing a ball, they instinctively want to chase after it and bring it back. This is known as the "prey drive" and is hardwired into dogs.
Retrieving balls is also a great way for dogs to get some exercise and mental stimulation. It's a fun activity that helps them burn off energy, while also giving them something to do. And since dogs are natural problem solvers, they enjoy trying to figure out how to get the ball back to you as quickly as possible.
Can a Dog Be Too Obsessed With a Ball?
Yes, a dog can be too obsessed with a ball. While it may seem like harmless fun at first, an obsession with a ball can quickly turn into something harmful for your dog.
If your dog becomes fixated on a ball to the point where they are no longer interested in anything else, it could lead to them becoming anxious and stressed when they are not able to play with the ball.
This can eventually lead to problems such as destructive behavior, escape attempts, and aggression. If you think your dog is starting to become too obsessed with a ball, it's important to take steps to redirect their focus and help them find balance in their life again.
What Do You Do When Your Dog is Obsessed With a Ball?
If your dog is fixated on a ball, there are a few things you can do to help them break the habit. First, try to engage your dog in other activities such as walks, runs, or playing fetch with other toys. This will help to tire them out and take their focus off of the ball.
If they are still fixated on the ball, you can try teaching them some basic obedience commands such as sit, stay, come, and down. Once your dog is responding well to these commands, you can then begin working on getting them to drop the ball on command.
Start by giving the command while they are holding the ball and rewarding them when they drop it. If they don't respond at first, you can try holding a treat near the ground so that they have to drop the ball to get it. With patience and practice, your dog should eventually be able to break its fixation on the ball.
Why Do Dogs Like Bouncy Balls?
There are a variety of reasons why dogs might like bouncy balls. For one, the balls provide mental stimulation for dogs as they try to figure out how to make them bounce.
Additionally, the balls provide physical activity for dogs as they chase after them. Finally, the balls often have a pleasant smell or taste that appeals to dogs' senses.
Why Do Dogs Love Playing Tug of War?
Dogs have been playing tug of war for centuries. It's a great way for them to release energy, use up excess prey drive, and bond with their owners. But why do they love it so much?
There are a few reasons why dogs love playing tug of war.
First, it's a great way to release energy. Dogs are high-energy creatures, and they need an outlet for all that pent-up energy. Playing tug is the perfect way to let off some steam.
Second, playing tug satisfies a dog's natural prey drive. In the wild, dogs would hunt down their prey and kill it by shaking it violently until its neck snapped. Tugging on a rope or toy simulates this natural instinct and gives dogs a chance to practice their hunting skills in a safe and controlled environment.
Finally, playing tug is a great way for owners and dogs to bond with each other. It's an interactive game that requires both parties to work together in order to succeed. This back-and-forth interaction strengthens the bond between owner and dog, making it one of the most enjoyable games you can play together.
Why Do Dogs Like Squeaky Balls?
There are a few theories out there as to why dogs find squeaky balls so irresistible. One theory is that the sound of the ball mimics the pitch of a dog's bark, which is why they find it so interesting.
Another theory suggests that dogs enjoy the challenge of trying to figure out how to make the ball squeak. Regardless of the reason, one thing is for sure – dogs love their squeaky balls!
Why Do Dogs Love Humans?
It's no secret that dogs are one of the most popular pets in the world. And it's not hard to see why: they're adorable, loving, and loyal creatures that can bring so much joy to our lives. But have you ever wondered why dogs seem to love humans so much? There are actually a few reasons for this.
First, dogs are social animals by nature. They thrive on companionship and being around others, which is something that they get from their interactions with us.
Secondly, dogs have been bred over thousands of years to be our companions, which means that they have an innate desire to please us and make us happy.
And finally, dogs simply enjoy the physical affection that they receive from us, something that we often take for granted but which means a lot to them.
So next time you're feeling down, remember that your furry friend loves you unconditionally and is always there for you, no matter what!
Conclusion
Dogs love playing with balls because it is instinctual for them. Running after a ball satisfies their predatory instincts, and the act of chewing on a ball can help relieve boredom or stress. Playing with a ball also provides mental and physical stimulation for dogs, which can help keep them healthy and happy.