There are a few possible explanations for why dogs might howl in their sleep. One theory is that they're reacting to dream stimuli. Just like people, dogs experience REM sleep, during which they may dream. It's possible that your dog is dreaming about chasing a rabbit or barking at another dog, and the howling is just part of the dreamscape.
Another explanation is that your dog is experiencing seizures during REM sleep. Seizures can cause involuntary muscle movements, including vocalizations like crying or howling. If you think your dog may be having seizures, talk to your veterinarian about treatment options.
Dogs may also howl in their sleep if they are experiencing separation anxiety or another type of stress. This is because howling is a way for dogs to communicate and relieve stress. If your dog is howling in their sleep, it's important to pay attention to see if there are any other signs of distress and to talk to your vet if you're concerned.
Why Has My Dog Suddenly Started Howling at Night?
If your dog suddenly starts howling at night, there could be a number of reasons why. It's important to first rule out any medical causes, such as pain or an infection. If your dog is otherwise healthy, the most likely reason for their howling is boredom or separation anxiety.
Boredom is often the cause of nighttime howling in dogs. They may be used to having people around during the day and become bored when left alone at night. To keep your dog from becoming bored, make sure they have plenty of toys and interactive puzzles to keep them occupied.
You might also want to consider crate training if your dog isn't already so they have a cozy space to call their own. Separation anxiety is another common cause of nighttime howling in dogs. If your dog is used to being with you all the time and suddenly finds themselves alone at night, it can be very frightening for them.
Dogs with separation anxiety may also bark excessively during the day when you're gone. The best way to help a dog with separation anxiety is through behavior modification training which will help them learn to feel more comfortable when left alone.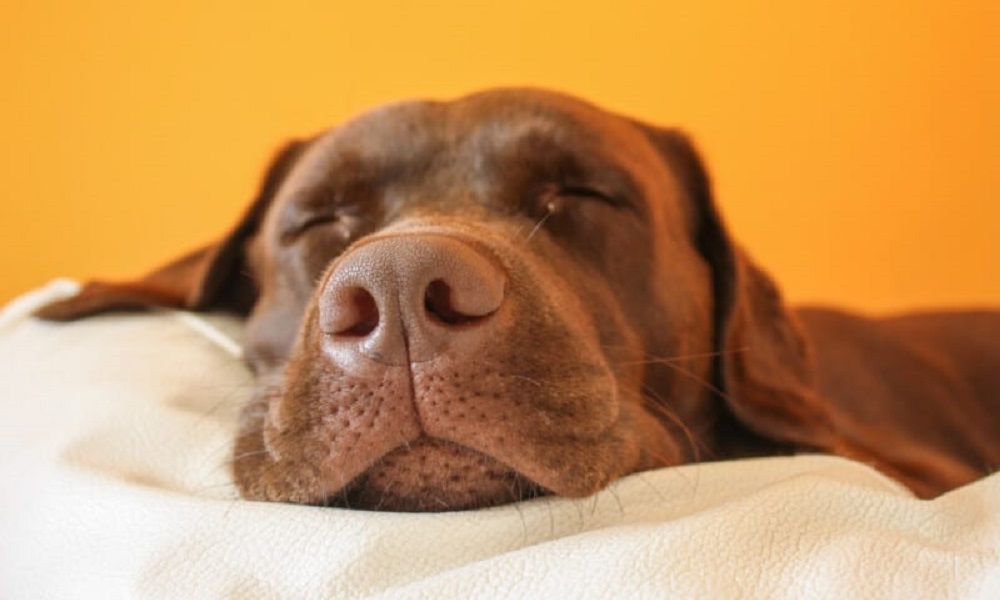 Do Dogs Howl When They Have Nightmares?
There's no definitive answer to this question since every dog is different. Some dogs may howl when they have nightmares, while others may not make a sound. It's important to remember that dogs dream just like humans do, so it's possible that they could have nightmares.
If your dog starts howling in the middle of the night, it could be a sign that they're having a bad dream. However, there are other reasons why dogs might howl at night, such as if they're feeling anxious or lonely. If you're concerned about your dog's nighttime behavior, it's best to speak with a veterinarian or animal behaviorist for guidance.
What Does It Mean When a Dog Howls Before It Dies?
When a dog howls before it dies, it is releasing its final breaths in a long, low moan. This sound is caused by the vocal cords vibrating as air leaves the lungs. Dogs often make this noise when they are in pain or are about to die.
My Dog Howled for the First Time in His Sleep?
My dog howled for the first time in his sleep last night, and I was so surprised! I had never heard him make that sound before. It was a high-pitched, almost eerie sound that made me sit up and take notice.
After a few moments, he stopped and went back to sleep, but I couldn't help wondering what had caused him to make that noise. There are a few possible explanations for why my dog howled in his sleep. One possibility is that he was dreaming about something.
Dogs often dream just like we do, and sometimes they vocalize their dreams by barking or howling. It's also possible that my dog was experiencing some kind of medical issue, such as pain or an ear infection. If your dog suddenly starts howling in his sleep, it's always best to consult with a veterinarian to rule out any potential health problems.
In most cases, though, dogs simply howl in their sleep because they're enjoying the experience! Howling is often seen as a sign of happiness in dogs, so it's likely that my pup was simply expressing joy in his dream state. Whatever the reason for his howling last night, I'm just glad he's happy and healthy!
Dog Howling in Sleep Spiritual Meaning
Have you ever wondered what it means when your dog howls in their sleep? Some people believe that it is a sign of a dog's spirituality and connection to the other world. There are many different interpretations of why dogs howl in their sleep.
Some believe that sound is a way for dogs to communicate with ghosts or spirits. Others believe that it is simply a reflexive action that occurs when dogs are in a deep sleep. Regardless of the reason, there is no doubt that hearing your dog howl can be unsettling!
If you're concerned about your dog's spiritual well-being, there are some things you can do to help them connect with the other world. Take them for walks in nature, introduce them to new smells and sounds, and give them plenty of time to explore their surroundings. By doing these things, you'll help open up their senses and allow them to better connect with the spirit world.
Dog Suddenly Started Howling in His Sleep
If your dog suddenly starts howling in his sleep, it could be a sign that he's experiencing a health issue. If the howling is accompanied by other changes in behavior, such as increased anxiety or aggression, it's important to take him to the vet for a checkup.
Howling can also be a sign of pain, so if your dog seems to be in discomfort, you should also seek medical attention. If there are no other changes in your dog's behavior and he seems otherwise healthy, the howling could simply be a weird quirk some dogs do make noise in their sleep from time to time!
Conclusion
Dogs howl in their sleep for a variety of reasons. Sometimes they are trying to communicate with other dogs, or they may be dreaming about something that is causing them to howl. If your dog is howling in his sleep, it is probably nothing to worry about, but you may want to consult with your veterinarian if the behavior persists.