Many people think of a senior dog as one that is quite old, however, this isn't always the case. A Jack Russell can be considered a senior dog as young as 7 years old. This is due to their small size and shorter life expectancy.

Larger breeds of dogs don't usually reach their senior years until they are around 10 years old. So, if your Jack Russell is starting to slow down, it's important to get them checked out by a vet to make sure there aren't any underlying health issues.
It's important to keep an eye on your senior Jack Russell and take them to the vet for regular check-ups. You may also need to make some changes to their diet and exercise routine to help them stay healthy and comfortable in their later years.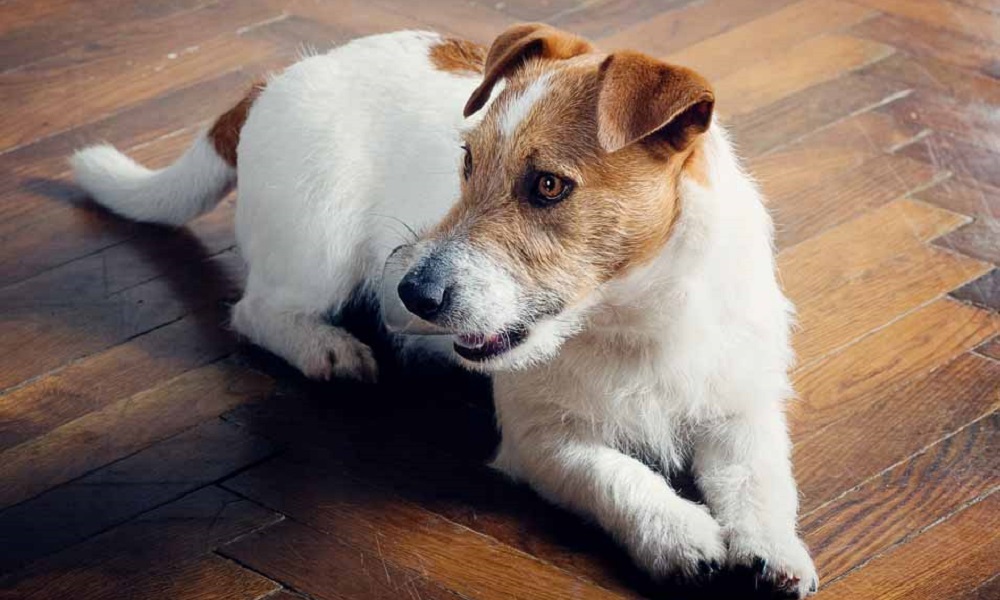 What Age Do Jack Russells Slow Down?
As Jack Russell ages, they may start to experience a slowdown in both energy and activity levels. This is normal for any dog as they reach their senior years, and is nothing to be concerned about.
However, if your Jack Russell suddenly becomes sluggish or doesn't seem interested in playing anymore, it could be a sign of an underlying health issue. If this happens, take them to the vet for a check-up.
What is the Average Lifespan of a Jack Russell?
The average lifespan of a Jack Russell Terrier is between 13 and 16 years, with some living as long as 20 years. The breed is generally healthy, but like all dogs, they are susceptible to certain health conditions.
The most common health problems seen in Jack Russells are patellar luxation, deafness, Legg-Calve-Perthes disease, von Willebrand's disease, and epilepsy.

Patellar luxation is a condition where the knee joint slips out of place. It can be painful and cause lameness in the affected leg. Deafness is another common problem in Jack Russell's and can be caused by congenital deafness or acquired deafness due to infections or injuries.

Legg-Calve-Perthes disease is a condition that affects the hip joint and can cause pain and lameness in the affected leg. Von Willebrand's disease is a bleeding disorder that can make wounds heal slowly or cause excessive bleeding during surgery. Epilepsy is a neurological condition that causes seizures.

Seizures can vary in severity from mild to severe and may be life-threatening. If you have a Jack Russell Terrier, it's important to take them to the vet regularly for checkups and to watch for any signs of illness or injury. If you think your dog may be sick or injured, don't wait – seek veterinary attention right away!
How Do Jack Russell Terriers Age?
Jack Russell Terriers are a small breed of dog known for their high energy and lively personalities. They are also one of the longest-living breeds, with an average lifespan of 15-18 years. However, like all dogs, they will age over time and may experience some health problems associated with old age.

One common issue in older Jack Russells is arthritis, which can be painful and make it difficult for your dog to move around. Other potential health problems include kidney disease, heart disease, cancer, and cognitive decline.
While there is no way to prevent all of these conditions, keeping your dog at a healthy weight and providing them with regular exercise can help reduce their risk.

As your Jack Russell ages, you may notice changes in their behavior or appearance. They may become less active and playful, sleep more often, and have difficulty hearing or seeing. Their coat may also become thinner and grayer over time.

While it's normal for your dog to slow down as they age, be sure to talk to your veterinarian if you noticed any sudden or drastic changes in their health or behavior so that they can rule out any underlying medical conditions. With proper care and love, your Jack Russell Terrier can enjoy a long and happy life well into their senior years!
What is the Longest Living Jack Russell Terrier?
The longest-living Jack Russell terrier on record is Toby, who lived to be 21 years and 8 months old. Toby was born in England in 1996 and died in 2018. He was owned by British actress Celia Imrie.
Credit: misfitanimals.com
Jack Russell's Old Age Problems
As your Jack Russell ages, he may start to experience some health problems typical of old age. These can include arthritis, vision and hearing loss, and kidney or liver disease. While there's no way to prevent all age-related problems, you can take steps to help your dog stay healthy and comfortable as he gets older.

Arthritis is a common problem in older dogs, and Jack Russells are no exception. If your dog starts to limp or seems stiff and sore after exercise, it's time to talk to your vet about treatment options. There are many ways to manage arthritis pain, including medication, weight control, supplements, massage, and acupuncture.

Vision and hearing loss are also common in older dogs. If your Jack Russell starts having trouble seeing or hearing, make sure to take him to the vet for a checkup. There are many ways to help dogs with vision or hearing loss, including special diets, supplements, toys, and training techniques.

Kidney or liver disease can be a serious concern in older dogs. If you notice your Jack Russell drinking more water than usual or urinating more often than normal, make an appointment with your veterinarian right away. Early diagnosis and treatment is crucial for these conditions.
Why Does My Jack Russell Follow Me Everywhere?
Your Jack Russell follows you everywhere because he loves you! Dogs are social animals that crave attention and companionship, so it's only natural that your little guy wants to be by your side as much as possible. After all, you're his favorite person in the world!

There are a few other reasons why your Jack Russell may follow you around. He could be seeking reassurance, especially if there have been recent changes or disruptions in his life. Or he might be trying to protect you from perceived dangers (like that pesky squirrel outside!).

Whatever the reason, enjoy the extra attention and affection from your furry friend. Just be sure to give him plenty of opportunities for exercise and mental stimulation, or he may become bored and destructive. A tired dog is a good dog!
Common Health Problems With Jack Russell
For any dog owner, it's important to be aware of the common health problems that can affect their breed. This way you can keep an eye out for early signs and get treatment as soon as possible if necessary. Here we take a look at some of the most common health problems that Jack Russells are prone to.

One of the most common health problems seen in Jack Russells is patellar luxation. This is where the kneecap slips out of place, causing discomfort and lameness. It's thought to be caused by a combination of genetic factors and small stature.

Treatment usually involves surgery to correct the problem. Another common issue seen in Jack Russells is von Willebrand disease, which is a blood clotting disorder. This means that if your dog suffers a cut or other injury, it may not be able to form clots and stop bleeding as quickly as normal dogs would.

Treatment involves giving your dog medication to help with clotting and keeping them away from situations where they could injure themselves (e.g., rough play).
Some Jack Russells are also affected by hydrocephalus, which is an accumulation of fluid on the brain. This can cause neurological problems and often requires lifelong treatment with medication. In severe cases, surgery may be needed to relieve pressure on the brain.
Finally, many Jack Russells suffer from allergies – both food allergies and environmental allergies (such as pollen or dust mites). The best way to deal with this is through avoidance – i.e., feeding your dog a hypoallergenic diet and keeping them away from things they're allergic to (which may not always be possible!).

If necessary, your vet can prescribe medication to help control your dog's symptoms.
Conclusion
When a Jack Russell is considered a senior dog varies depending on who you ask, but most people agree that a Jack Russell is considered a senior around 7-10 years old. Some signs that your Jack Russell may be starting to show their age include slowed activity levels, graying fur, and more frequent naps.
If you think your Jack Russell may be reaching their senior years, it's important to take them for regular vet checkups and to make sure they're getting plenty of exercises and proper nutrition.