There are a few different ways to remove excess hair from a dog, but hand stripping is by far the most effective. This method involves using your fingers or a special tool to pull out the dead hair from the dog's coat.
While it may sound painful, hand stripping actually feels good to most dogs and can help keep their coat healthy and looking their best.
Hand stripping a dog is a process of removing dead hair from the coat to promote new growth. The coat will have a healthier appearance and feel after hand stripping. The process can be done by either Stripping knives or your fingers.
Is Hand Stripping Dogs Painful?
Hand stripping is a method of grooming that is used on wire-haired breeds of dogs. It involves removing the dead hair from the dog's coat, which promotes new growth. This process can be painful for some dogs, as it can pull at the hair and skin. However, it is not typically considered to be harmful, and many dogs enjoy the process once they get used to it.
Benefits of Hand Stripping a Dog
When it comes to grooming your dog, you have a few different options. You can take them to a professional groomer, you can do it yourself at home, or you can hand strip them. So, what is hand stripping, and what are the benefits?
Hand stripping is a grooming technique that involves using your hands (and sometimes a special tool) to remove dead hair from the coat. This is different than clipping or shaving the coat, which actually cuts the hair. Hand stripping leaves the hair intact and helps to maintain its natural texture and appearance.
There are several benefits of hand stripping a dog:
1. It maintains its natural coat. As mentioned above, clipping or shaving the coat will change its appearance and texture. If you want your dog to keep their natural look, then hand stripping is the way to go.
2. It's less damaging to the skin. Clipping or shaving the coat can be harsh on the skin, especially if done improperly. With hand stripping, there's no risk of cutting or scraping the skin since you're only removing dead hair from the surface.
3 . It stimulates blood circulation. The act of hand stripping helps to stimulate blood circulation in the skin, which is good for overall health. Additionally, it can help reduce shedding.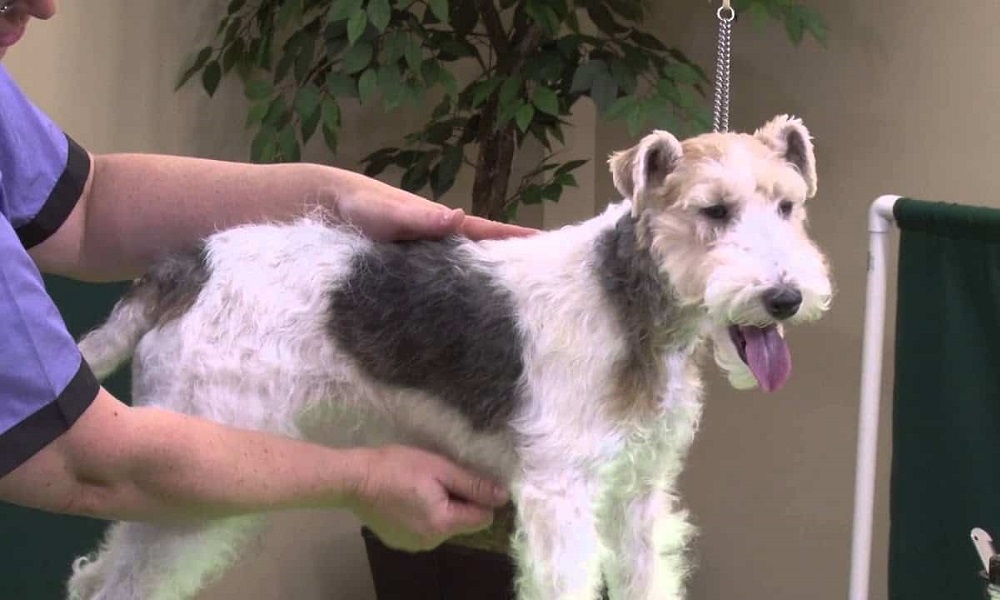 Risks Involved With Hand Stripping
When it comes to hand stripping, there are a few risks involved that you should be aware of. First and foremost, if not done correctly, hand stripping can damage your dog's coat. It is important to only strip the outermost layer of the coat and to be careful not to pull too hard or strip too much at once.
Another risk is that if your dog has any open wounds or sores on its skin, stripping can irritate or worsen them. Be sure to check your dog for any open wounds before starting the process and avoid those areas if possible.
Finally, some dogs may experience discomfort or pain during the process, so always go slowly and stop if your dog seems uncomfortable.
Alternative to Hand Stripping a Dog
Hand stripping is a process of removing dead hair from a dog's coat. It is commonly used on terriers and other wire-haired breeds but can be done on any type of dog. The process can be time-consuming and expensive, so many pet owners look for alternatives.
One alternative to hand stripping is called "clipper stripping." This involves using a special clipper that removes the dead hair without damaging the live hair underneath. Clipper stripping can be done by a professional groomer or at home with the right equipment.
Another alternative is to use a shedding blade. Shedding blades are designed to remove loose hair from all types of coats, including those that are difficult to strip by hand. They can be used weekly or as needed to help keep the coat healthy and free of Dead Hair Syndrome (DHS).
No matter which method you choose, it's important to talk to your veterinarian or professional groomer before starting any type of grooming regimen on your dog. They will be able to advise you on the best way to maintain your dog's coat based on their individual needs.
Does Hand Stripping a Dog Hurt?
No, hand stripping a dog does not hurt. This is a common misconception about the process, likely because it looks like the dog is being pulled or tugged on. In reality, however, hand stripping is done by gently removing dead hairs with your fingers while simultaneously combing through the coat with a special Stripping Comb.
This method of grooming is actually beneficial for the dog as it helps to stimulate new hair growth and keep their coat healthy and free of mats and tangles.
What Dog Breeds Require Hand Stripping?
There are a number of dog breeds that require hand stripping in order to maintain their coat. The most common of these breeds are the terriers, such as the Wire Fox Terrier, Welsh Terrier, and Irish Terrier. Other breeds that may require hand stripping include some hunting and working dogs, such as the Otterhound and Dandie Dinmont Terrier.
Hand stripping is a method of grooming that is used to remove dead hair from the coat and promote new growth. The process can be done with either striping combs or by hand. It is important to note that not all dog breeds requiring hand stripping will need it done on a regular basis – some only require it when their coat is looking particularly matted or unkempt.

For those breeds that do need regular hand stripping, it is generally recommended to have it done every 4-6 weeks.
Get more: What is Milbemax for Dogs
How Do Groomers Hand Strip a Dog?
There are a few different ways to hand strip a dog, and the method you use will depend on the type of coat your dog has. If your dog has a thick, dense coat, you'll likely need to use a stripping knife or blade to remove the dead hair. For dogs with thinner coats, you can use your fingers or a stripping stone to do the job.
The first step is to brush your dog's coat thoroughly to loosen up any dead hair and make it easier to remove. Next, start at the base of the neck and work your way down the body, using short, firm strokes in the direction of hair growth. As you strip each section, hold onto the stripped hair so it doesn't get tangled in the rest of the coat.
When you're finished stripping, give your dog's coat a good brushing again to remove any loose hairs and restore its natural oils. Hand stripping is an important part of grooming for many breeds of dogs, so be sure to ask your groomer how often it should be done.
What is the Difference between Stripping And Clipping a Dog?
There are a few key differences between stripping and clipping a dog. For one, stripping is generally considered to be a more thorough method of grooming since it removes all dead hair from the coat, whereas clipping only cuts the hair. This can be important for certain breeds that are prone to mats and tangles.
Stripping also tends to leave the coat looking healthier and fuller than clipping does. Finally, stripping typically takes longer than clipping anywhere from 30 minutes to an hour or more, depending on the size of the dog and the thickness of its coat.
Conclusion
Hand stripping is a process of removing dead hair from a dog's coat. The coat will then grow back in with a new, healthy coat. This process is often used on terriers and other breeds that have wire-like hair. It is also used to remove mats and tangles from the coat.