When it comes to deciding whether or not to walk your dog in the rain, there is no easy answer. Ultimately, it depends on a variety of factors, including your dog's personality and health, as well as the weather conditions. If you're unsure about whether or not it's safe to walk your dog in the rain, err on the side of caution and consult with your veterinarian.
If you're like me, you love your dog and want to make sure they get plenty of exercise even if that means braving the rain. But is it really safe to walk your dog in the rain? Here's what you need to know before heading out for a wet weather walk with your pup.
First, consider your dog's coat. If they have a thick, waterproof coat, they can probably handle getting wet more than dogs with thinner coats. That said, no dog likes being cold and wet, so try to keep walks relatively short in rainy weather.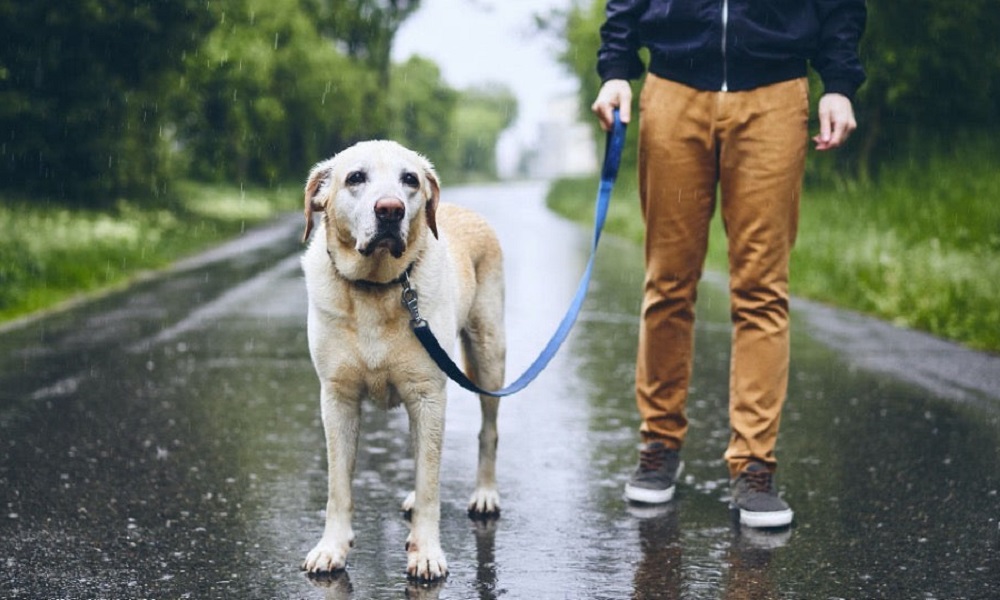 Secondly, be aware of puddles and other potential hazards. Puddles can contain all sorts of nasty things from chemicals to sharp objects that could hurt your pup's feet or make them sick. So take care to avoid puddles (or let them splash in safely under your supervision).
Finally, make sure you clean up after your dog properly if they go to the bathroom during the walk. It's always important to pick up after your pet but it's especially important in wet weather when there's a greater risk of spreading disease.
So there you have it, three things to keep in mind when walking your dog in the rain. With a little preparation (and maybe a raincoat), you and your pup can enjoy plenty of fun and exercise even on dreary days!
Do You Take Your Dog Out When It's Raining?
No, I don't take my dog out when it's raining. It's not good for their coat and they can get sick easily.
Do Dogs Like Being in the Rain?
No, dogs do not like being in the rain. They are often scared of the sound and will try to hide from it. If they are forced to go outside in the rain, they will often seek shelter as soon as possible. Some dogs will even try to avoid puddles and wet grass.
What to Do With Dogs When It Rains?
When it rains, many dog owners are unsure what to do with their furry friend. Here are some tips on how to keep your dog safe and comfortable when the weather isn't ideal. First, make sure your dog has a proper shelter from the rain.
This could be a covered porch or patio, a doghouse, or even just an umbrella that you hold over them while they go outside to relieve themselves. If possible, bring them inside when it's raining so they don't have to be out in the elements at all. Secondly, give your dog a bath after they've been out in the rain.
This will help remove any dirt or mud that may have gotten on their coat and also help prevent any skin irritations. Be sure to use a mild shampoo and rinse thoroughly so their coat is clean and free of any chemicals. Third, make sure your dog is wearing appropriate attire for the weather.
A raincoat or poncho can help keep them dry and warm, and booties can protect their paws from getting wet and cold. If you don't have any of these items, simply towel drying your dog as best as you can before coming inside will help immensely. Lastly, provide your dog with plenty of food and water.
They may not want to eat as much when it's cold outside, but it's important to maintain their energy levels. And because they'll likely be drinking more water to stay hydrated, having fresh water available at all times is crucial.
Should I Walk My Dog in the Rain Reddit?
It's no secret that dogs love the rain. They love feeling the cool water on their fur and running around in muddy puddles. However, as a responsible pet owner, you may be wondering if it's actually safe to walk your dog in the rain.
The answer is yes, walking your dog in the rain is perfectly safe – as long as you take a few precautions. First of all, make sure that your dog is wearing a waterproof coat or jacket to protect them from the elements.
Secondly, keep an eye out for puddles of standing water, which could contain harmful bacteria or parasites.
Finally, be careful of slippery surfaces – both for your own safety and for your dog's sake. So go ahead and enjoy a rainy day walk with your furry friend – just remember to stay safe!
Why Does My Dog Stay Out in the Rain
When it rains, most of us want to stay inside where it's dry and warm. But for some reason, dogs love the rain! They'll run outside and frolic around in the wet weather, no matter how cold it is.
So why does your dog enjoy being out in the rain? It could be because they enjoy the change of scenery. Or maybe they like the way the rain feels on their fur.
Whatever the reason, there's no doubt that dogs love playing in the rain! If you have a dog that loves the rain, make sure they're properly protected from the elements. Dogs can get sick just like humans, so it's important to keep them warm and dry when they're out in bad weather.
And of course, always make sure they have plenty of fresh water to drink after a rainy adventure!
Dog Breeds That Like Rain
Your dog may not be the biggest fan of walking in the rain, but there are some breeds that actually enjoy it. If you're looking for a dog that doesn't mind getting wet, here are a few breeds to consider: Labrador Retrievers are known for their love of water.
They were originally bred to help fishermen retrieve fish from cold rivers and lakes, so they're definitely not afraid of a little rain. Golden Retrievers are another popular breed that loves water. Like Labradors, they were originally bred to work alongside hunters and fishermen, so they have no problem getting wet.
Chesapeake Bay Retrievers are another great option if you're looking for a water-loving dog. These dogs were bred specifically for retrieving ducks from icy waters, so they're sure to enjoy a rainy walk.
If you live in an area with frequent rainfall, any of these breeds would make a great addition to your family. Just be prepared to give them plenty of opportunities to swim and play in the rain!
Dog Wants to Walk in the Rain
It's raining, and your dog is looking at you with those big, pleading eyes. You know what they're asking – can we go for a walk? But it's raining!
Do dogs even like walking in the rain? As it turns out, some dogs love walking in the rain. They enjoy the different sensation of wetness and cold on their fur, and they love being out in nature even when the weather isn't perfect.
Of course, not all dogs feel this way. Some dogs are scared of thunder and lightning, and others simply don't like getting wet. If your dog does want to walk in the rain, there are a few things you should keep in mind.
First, make sure they have a waterproof coat or jacket to protect them from the elements. Secondly, start off slowly let them get used to walking in the rain before you try going too far. And finally, be prepared for muddy paw prints when you get home!
Conclusion
If you don't mind getting wet, neither does your pup! Walking in the rain can be a fun and bonding experience for you and your dog. Just make sure to take some precautions before heading out into the storm.
Put on a raincoat or Poncho, grab an umbrella, and maybe even some rain boots to keep yourself dry. As for your pup, consider getting them a doggy raincoat or booties to protect their fur and paws from the wet weather. Once you're all geared up, head out into the rain and enjoy walking with your best friend!