Dogs love to chew. It's a natural instinct for them. But sometimes, they can get a little too enthusiastic and start chewing on things that they shouldn't – like your skirting boards!
If you're finding that your furry friend is starting to gnaw at the woodwork, here are some tips on how to stop them. The first thing you need to do is figure out why your dog is chewing on the skirting boards in the first place.
Is it because they're bored? Do they have separation anxiety? Or are they just teething and looking for something to chew on? Once you've identified the reason, you can start to work on a solution.
If your dog is chewing out of boredom, try giving them more toys and attention. Make sure they have plenty of things to keep them occupied, like Kongs stuffed with treats or puzzle toys filled with peanut butter.
If separation anxiety is the issue, talk to your veterinarian about possible medications that can help ease your dog's anxiety. If teething is the problem, provide them with lots of chew toys made specifically for puppies (and make sure not to scold them when they chew – this will only make them anxious and more likely to chew!).
Here are a few tips:
Start by teaching your dog the "leave it" command
This will help them to understand that they should not be touching certain things
If you catch your dog chewing on the skirting board, make a loud noise to startle them and then give the "leave it" command
Reward your dog when they obey the "leave it" command and stay away from the skirting board
This will reinforce good behavior
If your dog continues to chew on the skirting board, you may need to provide a more enticing reward such as a treat or toy
Make sure to provide plenty of chew toys for your dog so that they have something positive to chew on instead of the skirting board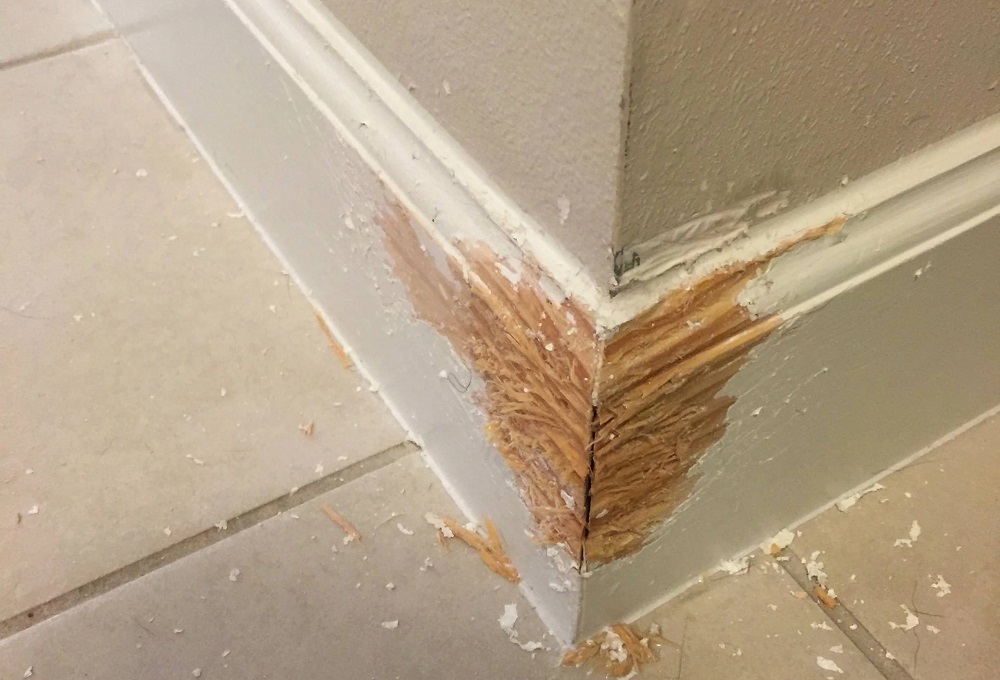 Why Do Dogs Chew Skirting Boards?
Dogs may chew on skirting boards, also known as baseboards, for various reasons, and understanding why they engage in this behavior can help address and prevent it.
Here are some common reasons why dogs may chew skirting boards:
Teething: Just like human babies, puppies go through a teething phase where their gums are sore and itchy due to the growth of new teeth. Chewing helps alleviate the discomfort, and skirting boards can be a convenient target for teething puppies.
Boredom: Dogs are intelligent animals that require mental and physical stimulation. If they are left alone for extended periods without toys or other outlets for their energy, they may resort to chewing on furniture, including skirting boards, as a way to alleviate boredom.
Anxiety or Stress: Dogs may chew on skirting boards when they are anxious, stressed, or experiencing separation anxiety. Chewing can provide a form of comfort and release pent-up energy or anxiety.
Exploration and Play: Dogs often use their mouths to explore their environment and engage in play. Skirting boards can become an interesting object for them to investigate or chew during playtime.
Dental Health: Chewing on hard objects like skirting boards can help keep a dog's teeth clean and healthy by reducing tartar and plaque buildup. However, excessive chewing can also lead to dental problems if it causes damage to the teeth.
Attention-Seeking Behavior: Dogs are social animals, and they may chew on skirting boards to get attention from their owners. If they learn that chewing results in a response (even if it's negative attention), they may continue the behavior.
To address skirting board chewing in dogs:
Provide Appropriate Chew Toys: Offer your dog a variety of safe and durable chew toys. Encourage them to use these toys instead of skirting boards.
Exercise and Mental Stimulation: Ensure your dog gets enough exercise and mental stimulation through walks, playtime, and training sessions to help alleviate boredom.
Training and Positive Reinforcement: Train your dog using positive reinforcement techniques to redirect their chewing behavior to appropriate objects and reward them for doing so.
Supervision: When you can't supervise your dog, consider confining them to a safe area or using a crate to prevent them from accessing skirting boards.
Address Anxiety: If your dog's chewing is related to anxiety or stress, consult with a veterinarian or a professional dog trainer for guidance on managing and treating anxiety-related behaviors.
Dog-Proofing: Make skirting boards less accessible by using bitter-tasting sprays or physical barriers, such as baby gates or pet gates.
Remember that patience and consistency are key when addressing unwanted chewing behaviors in dogs. If the behavior persists or worsens despite your efforts, consult with a veterinarian or a certified dog trainer for further assistance in addressing the underlying causes and finding effective solutions.
How Do I Stop My Dog from Chewing on Skirting Boards?
Assuming you want tips to prevent your dog from chewing on skirting boards:
1. Keep your dog occupied with chew toys and bones. If your dog has something else to chew on, he's less likely to be interested in the skirting board. Make sure the chew toys are interesting and keep rotating them so your dog doesn't get bored.
2. Use a deterrent spray on the skirting board. There are various sprays available that have a bitter taste that will deter dogs from chewing. You can also make your own spray by mixing water, white vinegar and lemon juice in equal parts.
3. Create a physical barrier between your dog and the skirting board. If possible, put up a baby gate or some other type of barrier that will prevent your dog from getting close enough to the skirting board to chew on it.
4. Train your dog with positive reinforcement techniques such as clicker training or treats to associate chewing on the skirting board with negative consequences (i.e., being scolded or losing access to a favorite toy).
How Do I Stop My Dog from Chewing the Woodwork?
There are a few things you can do to stop your dog from chewing on the woodwork. One is to provide them with plenty of chew toys so they have something else to gnaw on.
You can also try training them with positive reinforcement – rewarding them when they chew on their toy instead of the furniture.
Finally, make sure the area around the furniture is clear of any tempting objects like food wrappers or socks so they're less likely to be tempted to chew on it.
How Do I Get My Dog to Stop Chewing the Door Frames?
One of the most common household problems that dog owners face is their furry friend's chewing habits. Dogs chew for many reasons, including boredom, teething, and Separation Anxiety.
If your dog is chewing on door frames, it's important to take action to prevent further damage and correct the behavior. There are a few things you can do to stop your dog from chewing on door frames:
1. Provide plenty of chew toys and bones for your dog to gnaw on. This will help redirect their chewing behavior away from the door frame and onto something that is safe and acceptable.
2. Apply a bitter-tasting spray or gel to the door frame. This will deter your dog from wanting to chew on it again. Make sure to reapply as needed since the taste will fade over time.
3. Give your dog more attention and exercise. Boredom and lack of activity are often the root causes of destructive chewing behavior.
Spend more time playing with your pup, going for walks, or even just sitting down and petting them frequently throughout the day.
How to Stop Dogs Chewing Skirting Boards at Night?
Chewing on skirting boards can be a frustrating habit for dog owners, especially when it occurs at night. Here are some strategies to help prevent dogs from chewing skirting boards during the nighttime hours:
Exercise and Mental Stimulation: Ensuring your dog gets enough exercise and mental stimulation during the day is crucial. A tired dog is less likely to engage in destructive behaviors. Consider long walks, interactive play, and puzzle toys to tire out both their body and mind.
Appropriate Chew Toys: Provide your dog with a variety of suitable chew toys. High-quality, durable toys can help satisfy their natural chewing instincts. Be sure to choose toys that are safe and appropriate for your dog's size and chewing style.
Supervision and Barriers: If your dog has a history of chewing skirting boards, supervise them closely indoors, especially at night. Use baby gates or create a secure space to limit their access to areas with skirting boards.
Positive Reinforcement: When your dog avoids chewing on skirting boards, reward them with praise, treats, or affection. Positive reinforcement can encourage the behavior you want to see.
Designated Sleeping Area: Ensure your dog has a comfortable, designated sleeping space at night, such as a crate or bed. This can help reduce nighttime restlessness that may lead to chewing behavior.
Professional Guidance: If your dog's skirting board chewing continues despite your efforts, consult a professional dog trainer or a veterinarian. They can help identify and address any underlying issues contributing to the behavior.
Preventing nighttime skirting board chewing may take time and patience, but with consistent training and environmental management, you can help your dog develop better habits and protect your home from damage.
How Do I Get My Dog to Stop Eating the Baseboards?
One of the most common issues homeowners face with their dogs is getting them to stop nibbling on and eating the baseboards. While it may seem like a harmless chewing behavior, it can actually cause serious damage to your home. Baseboards are made of wood, which is a very sturdy material.
However, over time, dogs can wear down the finish and even start to chew through the wood itself. This can create costly repairs or replacements down the line. So how do you get your dog to stop eating the baseboards?
The first step is to figure out why they're doing it in the first place. Common reasons include boredom, hunger, teething pain, or anxiety. If your dog is bored, try increasing their exercise routine or providing them with more mental stimulation through puzzle toys or training games.
If they seem hungry all the time, talk to your veterinarian about whether their food needs to be adjusted.
What to Put on Wall to Stop Dog Chewing?
If your dog is anything like mine, they love to chew on things – especially things they're not supposed to! If you're tired of replacing chewed-up baseboards or drywall, you may be wondering what you can do to stop your furry friend from gnawing.
One option is to put something on the wall that will deter your dog from chewing. There are a few different things you can use for this, including:
Bitter apple spray: This noxious-tasting spray helps discourage chewing and licking. You can find it at most pet stores.
Cayenne pepper: Sprinkling cayenne pepper on the area you want your dog to avoid can also help deter them from chewing. Just be careful not to use too much, as it can irritate your dog's nose and throat.
luminum foil: If your dog loves the taste of metal, covering the area with aluminum foil may do the trick.
They'll quickly learn that chewing on foil isn't pleasant!
Vicks to Stop Dog Chewing
Vicks VapoRub is a popular product that can be found in most homes. It's main use is to relieve congestion from colds, but did you know that it can also be used to stop dogs from chewing?
When applied to the areas of your dog that they like to chew, the strong menthol smell will deter them from wanting to chew there.
You can apply Vicks directly to their skin or put it on a bandana and tie it around their neck. If you're looking for a natural way to stop your dog from chewing, give Vicks VapoRub a try!
Wintergreen Oil to Stop Dogs Chewing
Wintergreen oil is a great way to stop dogs from chewing on things they shouldn't. It's a natural oil that is safe for dogs and has a strong scent that dogs don't like. Simply apply the oil to anything you don't want your dog to chew on and they'll stay away.
Dog Chewed Skirting Boards Repair
If your dog has chewed up your skirting boards, don't despair! There are a few ways to repair the damage so that it's not noticeable. One option is to use wood filler.
This is a substance that can be used to fill in holes and cracks in wood. It comes in different colors, so you can choose one that closely matches the color of your skirting boards.
Once the filler is dry, you can sand it down so that it's level with the rest of the board. Another option is to use putty or caulk. This is a slightly more difficult method, but it can still be effective.
First, you'll need to clean out the area where the damage is. Then, apply the putty or caulk and smooth it over with a wet finger. Again, once it's dry, you can sand it down until it's flush with the rest of the board.
Finally, if the damage is extensive, you may need to replace the damaged section of skirting board altogether. This isn't as difficult as it sounds – you can simply measure and cut a new piece of wood to size, then glue or nail it into place.
Once again, sanding will be necessary to get a smooth finish. So there you have it – three ways to fix dog-chewed skirting boards!
Conclusion
If your dog is chewing on your skirting boards, there are a few things you can do to stop them.
Firstly, make sure that they have plenty of chew toys available to them so that they don't get bored and start chewing on things around the house.
Secondly, if you catch them in the act, scold them firmly and give them something else to chew on instead.
Finally, if all else fails, you may need to seek professional help from a behaviorist or trainer to find out why your dog is chewing and how to stop it.