Just like humans, dogs need protection from the elements, and a good cover can provide that. Whether it's a simple blanket or a more elaborate dog house, a cover is an essential part of keeping your dog happy and healthy.
As the weather gets colder, you may be wondering if you need to get a cover or blanket for your dog. The short answer is: it depends. Some dogs are more resistant to cold weather than others, and some actually prefer cooler temperatures.
If you're not sure whether your dog needs a cover, consider these factors:
Your dog's coat. Dogs with thick, dense coats are typically better equipped to handle cold weather than those with thinner coats. If your dog has a thin coat, he may benefit from a sweater or other type of cover when it's chilly outside.
Your dog's activity level. A more active dog will generate more body heat and may therefore be less likely to need a cover than a sedentary one. If your dog is relatively inactive, though, he may appreciate having something to snuggle under when it's cold out.
Your dog's age and health. Puppies and senior dogs are generally less tolerant of cold temperatures than adult dogs in good health.
If your puppy or elderly dog seems particularly sensitive to the cold, a cover may help him stay comfortable outdoors.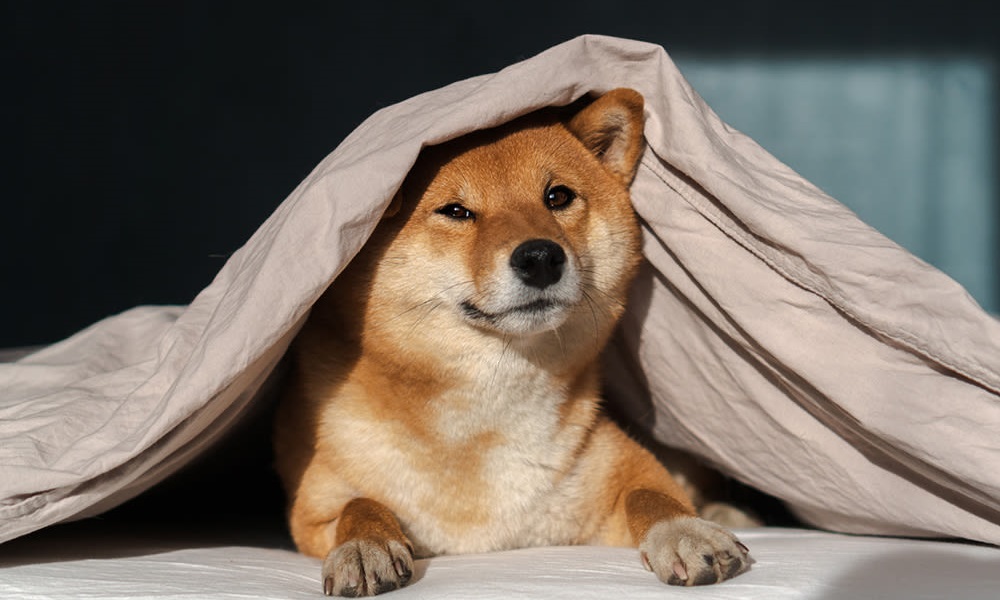 Do Dogs Like Being Covered in Blankets?
Dogs generally like being covered in blankets, as it makes them feel warm and secure. However, some dogs may not like the feeling of being restricted or enclosed in a space.
If your dog does not seem to enjoy being covered in a blanket, try using a lighter-weight fabric or placing the blanket only over their back rather than covering their entire body.
Should Dogs Have a Blanket at Night?
There is no definitive answer to this question as it depends on the individual dog's needs and preferences. Some dogs will enjoy snuggling under a blanket at night, while others may find it too constricting or prefer to sleep on their own. Ultimately, it is up to the owner to decide what is best for their dog.
If you are considering using a blanket for your dog at night, make sure to choose one that is breathable and washable in case of accidents. You should also keep an eye on your dog the first few nights to ensure they are comfortable and not over-heating.
Is It Ok to Let My Dog Sleep under the Covers?
Most dogs love to curl up under the covers, and there's nothing wrong with letting them do so. In fact, it can be a great way for you and your dog to bond. Snuggling under the covers is a special treat that your dog will enjoy, and it's also an opportunity for you to show your affection.
However, there are a few things to keep in mind if you want to let your dog sleep under the covers with you.
First, make sure that your bedding is clean and free of any dirt or debris that could irritate your dog's skin.
Second, be aware that some dogs shed more than others, so you may want to invest in a lint roller or cover your bed with a sheet before letting Fido snuggle up.
Lastly, keep an eye on your dog while he's sleeping under the covers, if he starts to pant excessively or seems overheated, it's time to kick him out from under the blankets!
How Can You Tell If a Dog is Cold at Night?
When it comes to dogs and cold weather, there are a few things you need to take into consideration. For starters, all dogs are different and will therefore tolerate different temperatures differently.
Some breeds of dog, such as Huskies and Malamutes, were actually bred for cold climates and so can handle lower temperatures better than other breeds.
However, even these breeds can get cold at night if the temperature drops too low. So how can you tell if your dog is cold at night?
The first thing you'll usually notice is that they'll start to shiver. This is their body's way of trying to generate heat by increasing muscle activity. If your dog is only mildly cold they may also curl up into a tighter ball in an effort to conserve heat.
If they're really cold, however, they may start to whine or whimper as their body starts to shut down in an effort to preserve the warmth.
If you think your dog might be cold at night then the best thing to do is err on the side of caution and bring them inside. A warm bed and a few blankets will soon have them feeling back to their old selves again.
Do Dogs Need Blankets in Ac?
As the weather starts to cool down, you may be wondering if you should start bundling up your pup. After all, dogs are covered in fur, so they must be pretty warm already, right? Well, it turns out that whether or not dogs need blankets depends on a few factors.
For starters, let's look at what kind of coat your dog has. If your dog has a short coat, they will likely benefit from a blanket during cooler months. This is because short-coated dogs don't have the same insulation as dogs with thicker fur coats.
In addition, short-coated dogs are more prone to getting cold since their skin is exposed to the elements more. On the other hand, if your dog has a thick coat of fur, they probably won't need a blanket unless it's particularly cold outside. Thick-coated dogs have much more insulation and are better able to withstand cold temperatures.
However, there are some thick-coated breeds that may appreciate a blanket in extreme conditions (think: arctic breeds like huskies and malamutes). Another factor to consider is your dog's activity level. If your dog is mostly inactive indoors (i.e., they spend most of their time sleeping), they may get chilly more easily and benefit from having a blanket available.
On the other hand, active dogs tend to generate more body heat and are less likely to need a blanket except in very cold weather. If you're unsure whether or not your pup could use an extra layer of warmth this winter, err on the side of caution and provide them with a cozy blanket – after all, it can't hurt!
Do Dogs Need Blankets in Summer?
As the weather starts to warm up, you may be wondering if your dog still needs a blanket. After all, they have fur to keep them warm, right?
While it's true that dogs have fur coats that help regulate their temperature, there are still times when they can benefit from a little extra warmth, like when they're sleeping outdoors or in a drafty room.
Just like humans, dogs can get cold at night and appreciate having a cozy blanket to snuggle up in. So, do dogs need blankets in summer? It really depends on the individual dog and their environment.
If your dog tends to get cold easily or sleeps outside during summer nights, then a blanket can help them stay comfortable. On the other hand, if your dog is relatively heat-sensitive or always has access to air conditioning, they may not need a blanket at all. Ultimately, it's up to you as the pet parent to decide what's best for your furry friend.
Do Dogs Like Blankets?
Dogs are often seen cuddling with their owners under blankets, but does this mean they actually like them? The answer is a resounding yes! Dogs enjoy the security and comfort that blankets provide, and many will seek out a cozy spot to curl up in when they're feeling chilly or need a sense of security.
While some dogs may not be particularly fond of being wrapped up in a blanket, most will enjoy snuggling under one with their favorite person.
Do Dogs Get Cold?
Dogs can get cold just like humans, and they feel the same discomfort. In fact, dogs are more susceptible to cold weather because they don't have the built-in fur protection that other animals do. Their coat does provide some insulation, but it's not enough to keep them warm in extreme conditions. And since their feet are exposed, they're more likely to get frostbite.
So how can you tell if your dog is cold? Look for these signs: shivering, holding up a paw, whimpering, or curling up into a tight ball. If your dog is exhibiting any of these behaviors, bring him inside and warm him up gradually with a blanket or heating pad.
Never put your dog in front of a fire or heater, as this could burn his skin. If you live in an area with cold winters, make sure you take extra care of your furry friend during this time of year.
Dress him in a sweater or coat when going outside, and try to keep walks short so he doesn't get too cold. You should also increase his food intake during the winter months to help him maintain his body heat
Conclusion
Many dog owners believe that their dogs need some type of cover, whether it be a blanket or a coat, when they sleep. However, this is not necessarily the case.
Dogs are actually able to regulate their own body temperature quite well, and unless it is cold outside or your dog is very old or sick, they likely do not need any extra coverage.
If you are unsure whether or not your dog needs a cover, pay attention to their behavior. If they seem cold, they will probably appreciate having something to snuggle under.