The short answer is yes, Sudocrem can be used on dogs. However, there are a few things to keep in mind before using it on your pup.
First, Sudocrem is for external use only. Do not let your dog ingest the cream, as it can be harmful.
Second, Sudocrem should only be used on minor rashes. If your dog's rash is severe, consult with your veterinarian before using any type of cream or ointment.
Finally, always test a small amount of Sudocrem on your dog's skin before applying it to a larger area. This will help you ensure that your dog does not have an adverse reaction to the cream.
Sudocrem can be used on dogs to soothe and heal skin conditions
Simply apply a small amount of Sudocrem to the affected area and massage it in gently
Allow the Sudocrem to work its magic for 24 hours before washing it off
Repeat as necessary until the condition clears up
If your dog is prone to getting hot spots, consider using Sudocrem as a preventive measure
Simply apply a thin layer of Sudocrem to the area where hotspots typically appear and massage it in well
What Are the Ingredients in Sudocrem?
The specific formulation of Sudocrem can vary slightly by region, but the main ingredients in the standard version of Sudocrem typically include:
Zinc Oxide: It is the primary active ingredient in Sudocrem. Zinc Oxide provides a protective barrier on the skin, helps to soothe irritation, and has mild antiseptic properties.
Lanolin: Lanolin is a natural, waxy substance derived from sheep's wool. It acts as an emollient, helping to moisturize and soften the skin.
Petrolatum: Also known as petroleum jelly, is a semi-solid mixture derived from petroleum. It forms a protective layer on the skin, helping to lock in moisture.
Liquid Paraffin (Mineral Oil): Liquid paraffin, or mineral oil, is a lightweight oil that helps to soften and moisturize the skin.
Beeswax: Beeswax is used to give Sudocrem its creamy consistency and to help with its water-repellent properties.
Benzyl Alcohol: Benzyl alcohol is a preservative that helps to extend the shelf life of Sudocrem. It is also used as a mild local anesthetic and antimicrobial agent.
Sudocrem does not typically contain added fragrances, colorants, or artificial additives, which makes it generally well-tolerated by most individuals, including those with sensitive skin.
When Does Sudocrem is Essential for Dogs?
Sudocrem is a popular over-the-counter topical cream primarily designed for use on human skin to treat various skin conditions, such as diaper rash, minor burns, cuts, and skin irritations.
While Sudocrem is not typically used as a primary treatment for dogs, there are a few situations where it may be considered for use under veterinary guidance:
Minor Skin Irritations: Sudocrem may be used in very small quantities on dogs for minor skin irritations or superficial cuts and abrasions. However, it should only be applied after consulting with a veterinarian to ensure it is appropriate for the specific issue your dog is experiencing.
Protective Barrier: Sudocrem can create a protective barrier on the skin, which may be beneficial for preventing further irritation or infection in certain cases. For example, it could be applied to a small, superficial wound that your veterinarian has already examined and advised on.
Hot Spots: In some instances, veterinarians may recommend using a medicated cream, including Sudocrem, to help manage hot spots (acute moist dermatitis) in dogs. However, it should only be used under veterinary supervision, and the underlying cause of the hot spot should be addressed.
Interdigital Cysts: Sudocrem may be used as part of a treatment plan for interdigital cysts, a condition where cysts form between a dog's toes. Again, this should be done under the guidance of a veterinarian.
It's important to emphasize that while Sudocrem may have some applications in veterinary care, it should never be used as a substitute for proper veterinary diagnosis and treatment.
What If a Dog Licks Sudocrem?
Sudocrem is a popular over-the-counter cream that is often used to treat diaper rash in babies. It contains zinc oxide, which helps to soothe and protect the skin. Although it is safe for humans, Sudocrem can be dangerous for dogs if they lick it off their skin.
Zinc oxide can cause vomiting, diarrhea, and abdominal pain in dogs. If your dog has licked Sudocrem off their skin, watch them closely for signs of illness and contact your veterinarian if they start to show any sign of distress.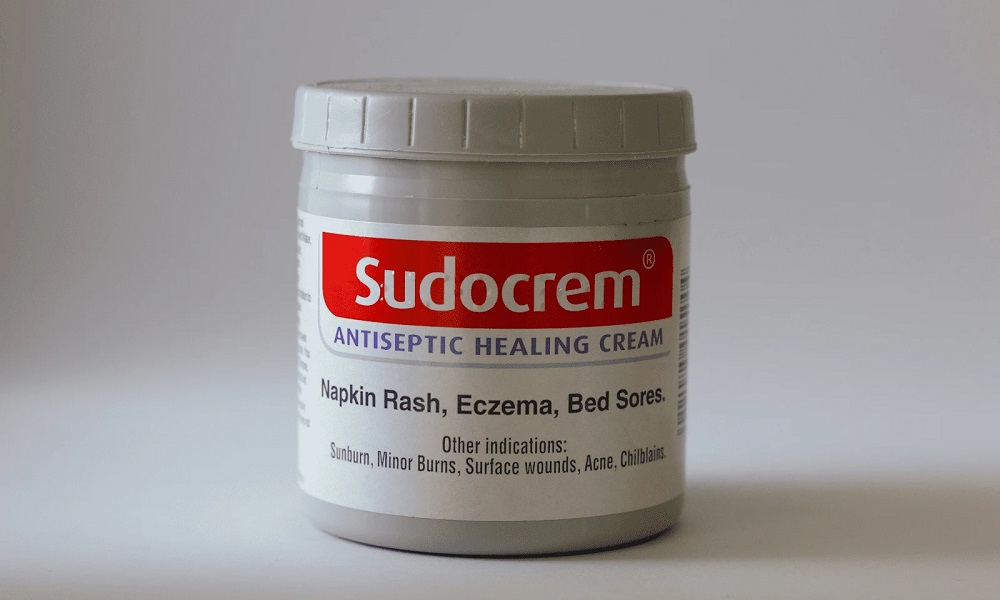 Safe Applications Ares of Sudocrem for Your Dog
Here is a list of situations where a veterinarian may recommend the use of Sudocrem on your dog:
Tail: The tail is typically a low-maintenance area, but some dogs may require cleaning or attention if they have skin issues or injuries near the tail.
Bum (Buttocks): Sudocrem may be recommended by a vet to treat mild skin irritations or diaper rash in this area.
Legs: Regular grooming and checking for injuries or irritations on your dog's legs are essential. Dogs can get cuts, scratches, or insect bites on their legs.
Bottom (Bum): Keeping the area around the anus clean is important for hygiene. Some dogs may require extra care due to anal gland issues or skin problems in this area.
Neck: Regularly check your dog's neck for signs of skin irritation, rashes, or ticks, especially if your dog wears a collar.
Head: Pay attention to your dog's ears, eyes, and snout. Clean ears as needed, check for signs of ear infections and keep the area around the eyes and nose clean.
Back: This area may require attention if your dog has skin issues, allergies, or hot spots.
Belly: Grooming the belly area is important to check for ticks, fleas, or any skin irritations. Some dogs may have sensitive skin on their bellies.
Paws: Regularly check your dog's paws for cuts, foreign objects, or irritations. Keep the paw pads clean and trimmed.
Around the Genitals: Sudocrem might be recommended by a vet to soothe and protect the skin in the genital area if there are mild irritations or discomfort.
Dog's Wrinkles: If your dog has wrinkles that are prone to moisture buildup and skin irritation, your veterinarian may advise using Sudocrem to keep these areas clean and dry.
Areas You Should Avoid While Using Sudocrem on Dogs
Sudocrem is a human skincare product and is not designed for use on dogs. Here's why you should avoid using Sudocrem on your dogs in these areas:
Eyes: Sudocrem contains ingredients that are not formulated for the sensitive eye area. Applying Sudocrem near the eyes can lead to eye irritation, discomfort, and potential harm.
Ears: Sudocrem should not be applied inside the ear canal. Using it in the ears can block air circulation and trap moisture, potentially causing ear infections or making existing ear issues worse.
Mouth: Sudocrem is not intended for oral use. Ingesting Sudocrem can be harmful to your dog and may result in gastrointestinal upset.
Nose: Sudocrem may contain ingredients that can be irritating if ingested or inhaled. Application of Sudocrem on the nose could lead to your dog licking or inhaling the product, potentially causing discomfort or digestive issues.
Open Wound: Sudocrem is not a suitable product for wound care in dogs. Open wounds should be treated with products specifically designed for wound management to prevent infection and promote proper healing.
What is the Better Alternative to Sudocrem?
Here are some common alternatives to Sudocrem for addressing minor skin problems in dogs:
Coconut Oil: Coconut oil is a natural and safe option for moisturizing and soothing minor skin irritations in dogs. It has antibacterial and antifungal properties and can be applied topically to dry or irritated skin. Be sure to use virgin, unrefined coconut oil.
Calendula Cream: Calendula cream is a natural, herbal remedy known for its soothing properties. It can be used to alleviate minor skin irritations and promote healing.
Aloe Vera Gel: Pure, unadulterated aloe vera gel (without additives like alcohol) can be applied to minor skin irritations to soothe and moisturize. It's particularly useful for sunburn or mild burns.
Chlorhexidine Solution: Chlorhexidine solution is an antiseptic that can be diluted with water and used as a topical rinse or spray for cleaning and disinfecting minor wounds and skin irritations.
Hydrocortisone Cream: Hydrocortisone cream, available over-the-counter, can help relieve itching and inflammation associated with minor skin irritations. However, it should only be used under veterinary guidance and for a short duration, as prolonged use can have side effects.
Tea Bag Compress: For minor irritations, you can also use a cooled, damp tea bag (such as chamomile or green tea) as a compress to soothe the affected area.
It is better to consult with your veterinarian before using any product on your dog's skin, especially if you are unsure about the underlying cause of the issue or the best treatment approach.
What Human Creams Are Safe for Dogs?
There are a lot of different products on the market that are marketed as "human creams safe for dogs", but the reality is that not all of them are actually safe for our furry friends.
In fact, some of them can even be dangerous. The answer may surprise you. It turns out that there are quite a few! Here are just a few examples:
1. Aqueous Cream: This type of cream is often used as a moisturizer for people with dry skin, and it's perfectly safe to use on dogs too. Just make sure to avoid getting it in their eyes or nose.
2. Calendula Cream: Calendula is a plant extract that has anti-inflammatory and healing properties, making it ideal for treating minor cuts and scrapes on your dog. It's also gentle enough to use on sensitive areas like their ears.
3. Coconut Oil: Unlike other oils, coconut oil is solid at room temperature but melts quickly when applied to the skin. It's great for moisturizing dry skin and can even help heal hot spots or other irritated patches of fur. Just make sure you don't overdo it a little goes a long way with this one!
4. Petroleum Jelly: Petroleum jelly is another product that can be used to treat minor cuts and scrapes, as well as helping to soothe dry noses or paw pads. However, unlike other creams on this list, petroleum jelly should only be used sparingly too much can actually clog up your dog's pores and lead to more problems down the road.
5. Vitamin E Cream: Vitamin E is an antioxidant that helps protect cells from damage caused by free radicals something that we humans need to worry about, but dogs usually don't!
What Can I Put on My Dogs Sore Skin?
If your dog has sore skin, there are a few things you can do to help them feel better. First, try to identify the cause of the soreness.
If it's due to allergies, you can give them an antihistamine and/or put them on a hypoallergenic diet. If the soreness is caused by fleas or other parasites, you'll need to treat those accordingly.
You can also bathe your dog in a soothing oatmeal shampoo and/or apply a topical cream or lotion designed for dogs with sensitive skin. Whatever the cause, be sure to consult with your veterinarian before starting any treatment.
What Cream Can I Put on My Dog's Rash?
There are a few different types of rashes that can occur on dogs, and the best cream to use will depend on the type of rash your dog has. If your dog has a hot spot, this is a bacterial infection of the skin that often occurs after an injury or insect bite.
Hot spots are painful and can be very itchy, so you'll want to use a soothing cream that contains ingredients like aloe vera or chamomile. For more serious infections, your veterinarian may prescribe an antibiotic ointment.
If your dog has allergic dermatitis, this is usually caused by an allergy to something in their environment (such as pollen or mold) or their food. Allergic dermatitis can cause intense itchiness and redness of the skin, and the best way to treat it is to identify and avoid the allergen if possible.
Your veterinarian may also prescribe a topical corticosteroid cream to help relieve itching. If your dog has seborrhea (also called dandruff), this is usually caused by an overgrowth of yeast on the skin.
Seborrhea can make the skin oily and flaky and can be uncomfortable for your dog. The best way to treat seborrhea is with medicated shampoos and/or creams that contain ketoconazole or other anti-yeast medications.
Finally, if your dog has simply developed dry, irritated skin from scratching too much (perhaps due to fleas), you can try using a moisturizing cream or lotion designed for dogs.
These products will help replenish moisture in the skin and may help soothe itchiness. You should always consult with your veterinarian before using any new product on your pet's skin, just to be safe!
Sudocrem on Dogs Anus
Sudocrem is a popular over-the-counter cream that is often used to treat diaper rash in infants. It can also be used for other skin conditions, such as acne, eczema, and psoriasis. Sudocrem contains zinc oxide and Benzyl alcohol.
Zinc oxide works as a barrier to protect the skin from wetness and irritation. Benzyl alcohol has antiseptic properties and helps to soothe the skin. When applied to the anus, Sudocrem can help to relieve itchiness and discomfort.
It can also help to heal minor cuts or scrapes. If your dog has severe anal itching, you should consult your veterinarian for treatment options.
Can You Put Savlon on Dogs?
No, you should not put Savlon on dogs. This is because Savlon is a topical antiseptic and antibiotic cream that contains ingredients like chlorhexidine and cetrimide which can be toxic to dogs if ingested.
Additionally, Savlon can also irritate a dog's skin. If you must use an antiseptic cream on your dog, look for one that specifically says it is safe for use on animals.
Can I Put Sudocrem on My Dogs Wrinkles?
If you have a wrinkly dog, you may be wondering if you can put Sudocrem on their wrinkles. The short answer is yes! Sudocrem can be used to treat your dog's wrinkles and dry skin. Simply apply a small amount of Sudocrem to the affected area and massage it in. You should see an improvement in your dog's skin within a few days.
Can I Use Sudocrem on Dogs Paws?
Yes, it is recommended to use Sudocrem on dogs' paws. After applying, monitor your dog closely for any adverse reactions, such as increased redness, irritation, or swelling. If you notice any concerning signs, discontinue use and contact your veterinarian.
Can I Use Sudocrem on Itchy Skin?
Itchy skin can cause of allergies, dermatitis, parasites, infections, or other medical conditions. Once the cause is identified, you can use Sudocrem according to your vet's recommendation. While using, you should carefully monitor your dog for any adverse reactions, such as increased irritation or swelling.
Can I Use Sudocrem on Dogs Ears?
If you suspect that your dog has an ear issue, such as an infection, inflammation, or irritation, then you can apply Sudocrem with the consultation of a veterinarian for a proper diagnosis and treatment plan.
Veterinarians have access to safe and effective ear treatments specifically formulated for dogs, and they can determine the underlying cause of the problem.
Benefits & Threats of Sudocrem for Dogs
It's crucial to note that Sudocrem should only be used on dogs under the guidance and recommendation of a veterinarian. Here are some of the potential benefits and threats of using Sudocrem for dogs:
Potential Benefits:
Soothing Irritated Skin

: Sudocrem may provide relief and soothe minor skin irritations, such as mild rashes or superficial cuts when applied in small amounts to the affected area.
Protective Barrier

: Sudocrem can create a protective barrier on the skin, which may help prevent further irritation and moisture buildup in certain cases.
Treatment of Specific Skin Issues

: Veterinarians may recommend Sudocrem for specific skin issues in dogs, such as hot spots, interdigital cysts, or other minor skin conditions, as part of a comprehensive treatment plan.
Potential Threats:
Ingestion Risk

: Dogs often lick their skin, and Sudocrem may contain ingredients that are not safe if ingested in large quantities. Ingestion of certain ingredients can lead to digestive upset or toxicity.
Allergic Reactions

: Some dogs may be sensitive or allergic to the ingredients in Sudocrem, leading to skin reactions, itching, redness, or discomfort.
Improper Use

: Applying Sudocrem in excessive amounts or using it on inappropriate areas of the dog's body may lead to adverse effects or complications.
Incomplete Treatment

: Using Sudocrem without a proper veterinary diagnosis may mask underlying health issues. It's essential to identify and address the root cause of any skin problem rather than relying solely on a topical cream.
In summary, Sudocrem can have potential benefits when used on dogs for specific minor skin issues, but it should be used with caution and only under veterinary guidance. Dogs have different sensitivities and requirements compared to humans, and certain ingredients in Sudocrem may not be safe for them.
Conclusion
Yes, you can use Sudocrem on dogs. Sudocrem is a topical cream that can be used to treat a variety of skin conditions in dogs. It is safe for use on puppies and adult dogs.