It is not recommended to use Fairy Liquid or any other dishwashing soap to wash your dog. These types of soaps are formulated for cleaning dishes and can be too harsh for your dog's skin and coat. They can strip the natural oils from your dog's skin, leading to dryness, irritation, and potential skin issues.
To properly clean your dog, it's best to use a dog-specific shampoo. These shampoos are carefully formulated to be gentle on your dog's skin and coat, often with a pH balance suitable for their needs.
They come in various formulations to address specific concerns, such as sensitive skin, allergies, or coat types. Prior to using any new dog shampoo, it's a good practice to consult with your veterinarian, especially if your dog has any skin conditions or allergies.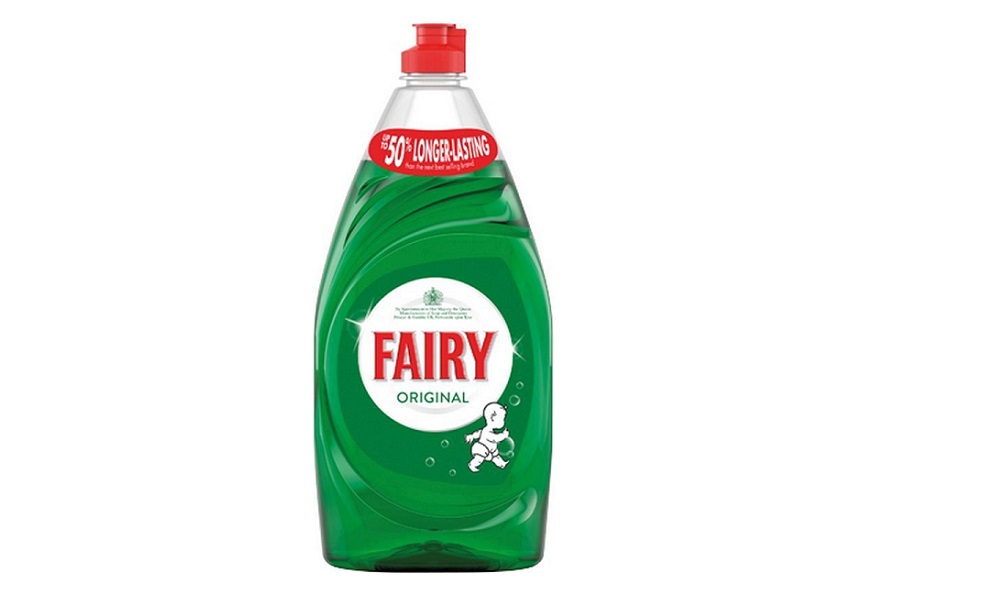 What is Fairy Liquid?
Fairy Liquid is a brand of dishwashing soap and detergent that is widely recognized in the United Kingdom and some other countries. It is produced by Procter & Gamble and is known for its ability to effectively remove grease and food residue from dishes and cookware.
Fairy Liquid comes in various formulations, including scented and hypoallergenic versions, and it is commonly used for hand-washing dishes and utensils.
The product is available in liquid form and is often found in plastic bottles with easy-to-use dispensers. It is considered a household staple for many people who prefer to wash their dishes by hand.
Pet Safe Washing Up Liquid
If you're looking for a pet-safe washing-up liquid to clean your pet's dishes or other items, there are several options available.
These products are formulated to be safe for pets and are free from harmful chemicals that could potentially harm them. When choosing a pet-safe washing-up liquid, look for the following features:
Hypoallergenic: Choose a washing-up liquid that is hypoallergenic to minimize the risk of skin irritation or allergies in your pets.
Fragrance-Free: Fragrances in cleaning products can be bothersome to some pets, so opt for fragrance-free or lightly scented options.
Non-Toxic: Ensure that the product is labeled as non-toxic and safe for pets. Avoid products that contain harsh chemicals, bleach, or ammonia.
Biodegradable: Opt for a washing-up liquid that is biodegradable and eco-friendly, as it is better for the environment and safe for your pets.
Approved for Pet Use: Some brands specifically market their washing-up liquids as safe for pet use. Look for these options, as they are designed with pets in mind.
Rinse Thoroughly: Regardless of the washing-up liquid you choose, be sure to rinse pet dishes and items thoroughly to remove any residue before your pet uses them.
Remember that pet-safe washing-up liquid is intended for cleaning pet dishes, bowls, and other pet-related items. It is not a replacement for pet-specific grooming or cleaning products, which are formulated for your pet's specific needs.
Can I Wash My Dog With Shower Gel?
It is generally not recommended to wash your dog with shower gel or human shower products for several reasons:
Skin pH Differences: Dogs have a different pH level in their skin compared to humans. Human shower gels and soaps are formulated to match the pH of human skin, which may not be suitable for a dog's skin. Using products designed for humans can disrupt the natural balance of a dog's skin, leading to dryness, irritation, or skin issues.
Allergies and Sensitivities: Dogs can have allergies or sensitivities to certain ingredients found in human shower gels. Ingredients such as fragrances, dyes, and harsh detergents may irritate a dog's skin or cause allergic reactions.
Residue and Licking: Dogs tend to lick themselves, and using shower gel or soap not specifically formulated for dogs can leave residues on their fur that they may ingest while grooming. Some of the ingredients in human shower products can be harmful if ingested.
Eye and Ear Sensitivity: Human shower products are not suitable for cleaning a dog's eyes or ears. Using them in these sensitive areas can lead to irritation or discomfort.
If you need to bathe your dog, it's best to use a dog-specific shampoo and conditioner. Dog shampoos are formulated to match the pH of a dog's skin, are generally free from potentially harmful ingredients, and often have specific formulations for different coat types or skin conditions.
What Can I Use to Wash My Dog If I Don't Have Dog Shampoo?
If you don't have dog shampoo, there are a few things you can use to wash your dog. You can use a mild soap, such as baby shampoo or dish soap.
Avoid using anything with strong chemicals, as these can be harmful to your dog's skin. You can also use vinegar or baking soda mixed with water to create a DIY dog shampoo. Just make sure to rinse your dog well after using any of these alternative shampoos.
Is Washing Up Liquid Safe for Pets?
Most standard washing-up liquids or dishwashing soaps are not considered safe for pets, particularly if used directly on your pet's fur or skin. Here's why using washing-up liquid on pets is generally not recommended:
Skin Sensitivity: Pets, especially dogs and cats, have more sensitive skin than humans. The chemicals and fragrances present in many washing-up liquids can be harsh on their skin, leading to irritation, dryness, or allergic reactions.
Ingestion Risk: Pets often groom themselves by licking their fur. If you use washing-up liquid on your pet's fur, there is a risk that they may ingest some of the residue left on their fur during grooming. Many dishwashing soaps contain chemicals that can be harmful if ingested.
Eye and Ear Sensitivity: Getting washing up liquid in your pet's eyes or ears can be uncomfortable and potentially harmful. These areas are sensitive, and exposure to soap can lead to irritation.
Residue Removal: It can be challenging to rinse out washing up liquid completely from your pet's fur, which can leave residue that may continue to irritate their skin or be ingested during grooming.
What Dishwashing Liquid Is Safe for Dogs?
There are a variety of dishwashing liquids on the market that claim to be safe for dogs. However, not all of these products live up to their claims. Some dishwashing liquids contain harsh chemicals that can irritate your dog's skin and cause health problems.
Other dishwashing liquids may not be strong enough to remove dirt and grime from your dog's dishes, leaving them at risk for infection. So, what dishwashing liquid is safe for dogs? The best way to find out if a dishwashing liquid is safe for dogs is to read the label carefully.
Look for products that are labeled as "non-toxic" or "safe for pets." Avoid any product that contains ammonia, bleach, or other harsh chemicals. You should also avoid using scented dishwashing liquids, as the fragrance can irritate your dog's sensitive nose.
If you're still not sure which dishwashing liquid is right for your pup, ask your veterinarian for recommendations. They will be able to recommend a product that is both safe and effective at cleaning your dog's dishes.
What Can I Use to Wash My Dog?
When it comes to washing your dog, there are a few things you need to take into consideration. The first is what type of shampoo you will use. There are specific shampoos for dogs that can be bought at most pet stores.
These shampoos are designed to be gentle on a dog's coat and skin. You should avoid using human shampoo as it can be too harsh and cause irritation. The second thing to consider is how often you should wash your dog.
This will depend on the individual dog and their lifestyle. If your dog goes outside often or gets dirty regularly, then they will likely need to be washed more frequently than a dog who stays inside most of the time. A good rule of thumb is to wash them every 4-6 weeks, but this can vary depending on your pet's needs.
Finally, you need to think about the actual process of washing your dog. You will want to make sure that you have everything you need before starting, such as a towel and warm water. Wet your dog down with warm water and then apply the shampoo, working it in well from head to tail.
Rinse thoroughly and then dry off your pup with a towel. Washing your dog doesn't have to be difficult, just follow these simple tips and you'll have a clean pooch in no time!
Can I Wash My Dog With Human Shampoo?
The answer is yes, you can wash your dog with human shampoo. However, there are a few things to keep in mind before doing so.
First and foremost, it's important to find a shampoo that is specifically designed for dogs. Human shampoos often contain ingredients that can be harsh on a dog's skin and coat.
You want to avoid anything that has sulfates or fragrances, as these can irritate your pup's skin. Instead, look for something that is hypoallergenic and soap-free. When it comes time to actually wash your dog, make sure you use lukewarm water instead of hot water.
Hot water can further dry out your pup's skin and coat. And be sure to rinse thoroughly! Any residue left behind could lead to irritation or even infection.
Overall, washing your dog with human shampoo is perfectly fine as long as you take the proper precautions. Just be sure to use a gentle formula specifically designed for dogs and always rinse thoroughly afterwards!
Can You Use Fairy Liquid to Wash Your Hair?
If you're looking for an alternative to shampoo, you may be wondering if you can use Fairy liquid to wash your hair. The short answer is yes, you can! Fairy liquid is a gentle cleansing agent that can be used on all hair types.
It's especially beneficial for those with dry or damaged hair, as it won't strip away natural oils like some shampoos can. To use Fairy liquid to wash your hair, simply wet your hair and massage a small amount of the liquid into your scalp. Rinse thoroughly and style as usual.
You may need to experiment with different amounts of Fairy liquid to find what works best for your hair type, start with a small amount and increase as needed.
Will Washing Up Liquid Kill Fleas on Dog?
There are a lot of different products on the market that claim to kill fleas, but not all of them are effective. Washing up liquid is one product that you may be wondering if it can actually kill fleas on your dog. The answer is yes, washing up liquid can kill fleas on your dog if used correctly.
To use washing-up liquid to kill fleas on your dog, you will need to create a flea shampoo. To do this, mix together 1 part washing up liquid with 2 parts water.
Once mixed together, wet your dog's fur and massage the shampoo into their skin. Be sure to avoid their eyes and ears. Let the shampoo sit on your dog for 5-10 minutes before rinsing it off completely.
When using any type of product to kill fleas, always read the label carefully and follow the instructions. This will help ensure that you are using the product correctly and safely.
Conclusion
It is not advisable to use Fairy Liquid or any dishwashing detergent to wash your dog. These detergents are intended for cleaning dishes and can be harsh on your dog's skin and coat, potentially stripping away essential natural oils.
Instead, opt for a dog-specific shampoo that is designed to be gentle, pH-balanced, and suitable for your dog's unique needs. Prioritizing your dog's skin and coat health is essential for their overall well-being.