Yes, dogs have been known to sense or detect when a woman is going into labor. They possess a keen sense of smell and are highly attuned to changes in their environment, including shifts in hormonal levels and subtle behavioral cues.
Some dogs may exhibit certain behaviors or show signs of sensing labor in their pregnant owners. These behaviors can vary among individual dogs, but some common signs include:
Increased attention and clinginess: Dogs may become more attentive and stay close to their pregnant owner, showing increased affection or seeking reassurance.
Restlessness or anxiety: Dogs may exhibit restlessness, pacing, or an inability to settle. This can be a result of picking up on the owner's physical and emotional changes.
Protective behavior: Dogs may become more protective of their pregnant owner, acting as if they are guarding her or becoming more alert to potential threats.
Sniffing or licking the abdomen: Some dogs may show a particular interest in the pregnant woman's abdomen, repeatedly sniffing or gently licking the area.
It's important to note that not all dogs will display these behaviors, and the ability to sense labor can vary among individuals. Additionally, it's always recommended to consult with healthcare professionals, such as doctors or midwives, for accurate information about the progress of labor.
Symptoms of Labor in Dogs!
When a dog is going into labor, there are several signs and symptoms to look out for. These can vary among individual dogs, but here are some common indications that a dog is entering the labor and delivery stage:
Nesting behavior: The dog may start seeking out a quiet and comfortable area to create a nest-like environment for giving birth. This can involve digging, scratching, or rearranging bedding.
Drop in body temperature: Prior to labor, a dog's body temperature may decrease below the normal range (usually around 100 to 102.5 degrees Fahrenheit or 37.7 to 39.2 degrees Celsius). Monitoring the dog's temperature can help predict the onset of labor.
Restlessness and pacing: The dog may appear restless, unable to settle, and may constantly move around.
Loss of appetite: A decrease in appetite is common as labor approaches. The dog may show less interest in food and may even refuse to eat.
Vulva swelling and discharge: The dog's vulva may become enlarged and there may be a discharge that ranges from clear to slightly bloody or mucus-like. This is a normal part of the pre-labor stage.
Behavioral changes: The dog may display changes in behavior, such as increased clinginess, seeking more attention from the owner, or becoming more anxious or nervous.
Contractions: As labor progresses, the dog will experience contractions. These are visible as rhythmic abdominal contractions and may be accompanied by panting, pacing, or signs of discomfort.
It's important to note that if your dog is pregnant and you suspect she is going into labor, it is recommended to consult with a veterinarian for guidance and support throughout the birthing process. They can provide specific advice based on your dog's individual needs and circumstances.
Can Dogs Sense When a Woman is Going into Labor?
Dogs are incredibly attuned to their environment and the people in it. They can pick up on subtle changes in our behavior, body language, and scent. This means that they may be able to sense when a woman is going into labor.
There are several ways that dogs might be able to tell that labor is imminent. For example, they may sniff around a woman's belly more frequently or intently. They may also stare at her more than usual or follow her around closely.
Additionally, they may become more restless or vocalize more than normal. Of course, not all dogs will react in the same way to a woman going into labor. Some may not seem to notice anything out of the ordinary while others may display very clear signs of excitement or concern.
However, if you think your dog might be trying to tell you something, it's always worth paying attention to their behavior just in case!
Did Your Dog Act Weird before Labor?
If you notice that your dog is acting weird before labor, it's important to take her to the vet right away. There are a number of possible causes for this behavior, and only a professional can properly diagnose and treat the problem. Some potential causes of weird behavior in dogs just before labor include:

1. Anxiety or excitement: It's not uncommon for dogs to become anxious or excited as they anticipate the arrival of their puppies. If your dog is panting, pacing, whining or seems generally on edge, she may be feeling nervous about what's to come.
2. Pain: While some discomfort during pregnancy is normal, if your dog is acting unusually restless or seems in pain, she may be experiencing complications. Labor itself can also be painful for dogs, so if your pet seems particularly uncomfortable, it's best to err on the side of caution and have her checked out by a vet.
3. Illness: Unfortunately, there are a number of illnesses that can cause strange behavior in dogs just before labor begins. If your pet has been displaying other symptoms along with her odd behavior (such as vomiting or diarrhea), it's possible she's sick and will need medical attention.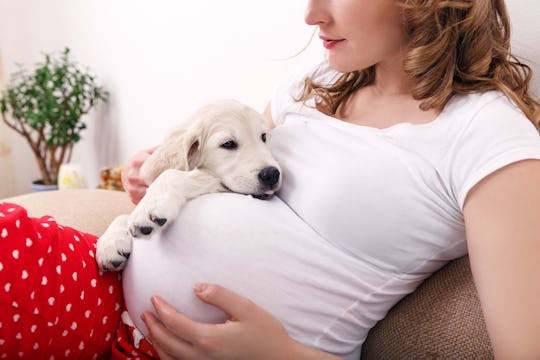 Credit: www.romper.com
Dog Behavior before Labor
As your dog's due date approaches, you may notice changes in her behavior. She may seem more restless, want to nest or sleep more, and her appetite may change. These are all normal signs that labor is imminent. If your dog is pregnant, it's important to be aware of the signs that labor is about to begin so you can be prepared. Here's what to look for:
Restlessness: Your dog may seem unable to settle down and may pace or circle around a lot. This is caused by the hormones released as labor nears, which can make her feel anxious and unsettled.
Nesting: Many dogs will start looking for a place to nest before labor begins. This instinctual behavior is driven by the need to find a safe and comfortable place to have her puppies. If you don't provide a nesting box or bedding for her, she may try to dig in your yard or tear up couch cushions to make her own nest.
Increased Sleep: As labor nears, your dog will likely want to spend more time sleeping. This is normal as she expends energy getting ready for childbirth and caring for her puppies afterwards.
However, if she seems unusually lethargic or uninterested in food, it could be a sign of something serious like an infection called eclampsia (more on this below). So if you're concerned about your dog's energy levels, talk to your vet right away.
What are 11Th Hour Changes Pregnancy
11th hour changes pregnancy can be a very scary time for expecting mothers. Your body is going through so many changes and you may feel like you're not in control of anything anymore.
It's important to remember that these changes are normal and your baby is safe. Here are some things to expect during 11th hour changes pregnancy:
•Your baby will continue to grow and gain weight. They may even drop lower into your pelvis in preparation for birth. This can cause increased pressure on your bladder, so you may find yourself needing to urinate more often.
•You may experience Braxton Hicks contractions, which are false labor pains caused by the tightening of your uterus. These contractions are usually painless and don't last very long. However, if they become regular or painful, contact your healthcare provider immediately.
•You may have nesting instincts, which is when you get the urge to clean and organize everything in preparation for your baby's arrival. This is perfectly normal! Just make sure you don't overdo it and exhaust yourself.
•Your emotions will be all over the place during this time as well. You may feel excited, scared, anxious, or any combination of these emotions. Again, this is perfectly normal!
Can Animals Sense When You are Going into Labor?
As your due date approaches, you may notice your animals behaving differently. They may be more clingy or attentive than usual, as if they sense that something is about to change. It's not just a coincidence – animals really can sense when you are going into labor.

Studies have shown that dogs, in particular, are attuned to changes in their human's behavior and physiology. They can pick up on subtle cues that we're not even aware of, like changes in our scent or the way we walk.
So if your furry friend is acting strangely in the days leading up to your baby's arrival, there's a good chance they know something you don't!
Conclusion
Dogs are known for their keen sense of smell, and it turns out they can also sense when their human is about to go into labor. Several anecdotal stories exist of dogs behaving oddly or acting anxious in the days or hours leading up to their owner's labor.
While there's no scientific evidence to support these claims, it's possible that dogs are picking up on subtle changes in their owner's body language or scent that indicate they're about to give birth.
So if your dog seems extra clingy or won't leave your side, you may want to keep an eye on them in case they're trying to tell you something!