The answer is yes but with some caveats. First off, you want to make sure that the sausage you're feeding your dog is cooked all the way through. Raw sausage could contain harmful bacteria that could make your pup sick.
Secondly, many sausages contain spices that may not agree with your dog's stomach. So if you do feed them sausage, start with a small piece to see how they react before giving them more. And lastly, as with any treat, moderation is key.
Sausage is high in fat and calories, so too much could lead to weight gain or other health problems down the road.
What Happens If a Dog Eats Sausage?
If a dog eats sausage, the effects can vary based on factors such as the type of sausage, the ingredients in the sausage, the size of the dog, and the amount consumed. Here's what you might expect:
Digestive Upset: Sausage is often high in fat and can be rich and spicy, which can upset a dog's stomach. Many sausages also contain seasonings like garlic, onion, and spices, which can be irritating to a dog's digestive system and lead to vomiting, diarrhea, or abdominal discomfort.
High Fat Content: Sausages are often high in fat, which can be difficult for dogs to digest. Consuming a high-fat meal can lead to pancreatitis, a condition where the pancreas becomes inflamed, causing symptoms like vomiting, abdominal pain, lethargy, and loss of appetite.
Salt Intake: Sausages can be salty, and excessive salt consumption can lead to dehydration, electrolyte imbalances, and even sodium ion poisoning. These conditions can cause symptoms like increased thirst, vomiting, diarrhea, tremors, seizures, and in severe cases, death.
Toxic Ingredients: Sausages often contain ingredients that are toxic to dogs, such as garlic and onions. These can damage a dog's red blood cells, leading to a condition called hemolytic anemia. Symptoms of onion or garlic poisoning may include weakness, lethargy, pale gums, and even collapse.
Allergic Reactions: Dogs can be allergic to certain ingredients in sausages, including meat proteins or additives. Allergic reactions might manifest as itching, skin rashes, hives, or gastrointestinal disturbances.
Obstruction Risk: In some cases, sausages might contain bone fragments or casing material that could pose a choking hazard or lead to gastrointestinal obstructions if consumed by a dog.
Individual Tolerance: Dogs' reactions to consuming sausage can vary widely. Some dogs may tolerate small amounts without significant issues, while others might experience severe discomfort from even a small piece.
If your dog has eaten sausage and you're concerned about their well-being, it's a good idea to monitor them closely for any signs of distress. If your dog shows symptoms like vomiting, diarrhea, lethargy, abdominal pain, or unusual behavior, contact your veterinarian for advice.
Is Pork Sausage Ok for Dogs?
Yes, pork sausage is perfectly fine for dogs to eat. In fact, it can be a great source of protein and other nutrients for your pup.
Just make sure to choose a sausage that is low in fat and sodium, and doesn't contain any harmful additives or preservatives.
What Meat Should Dogs Not Eat?
There are a few types of meat that dogs should not eat. These include:
1. Pork – Pork is one of the most common meats that dogs are allergic to. It can also contain harmful parasites that can make your dog sick.
2. Lamb – Lamb is another meat that commonly causes allergies in dogs. It can also be difficult for them to digest due to its high fat content.
3. Horsemeat – Horsemeat can be very tough for dogs to digest and may contain harmful bacteria that can make your pet sick.
4. Organ meats – Organ meats, such as liver and kidney, can be toxic to dogs if they consume too much of it. These organs also contain high levels of cholesterol which can be dangerous for your pet's health.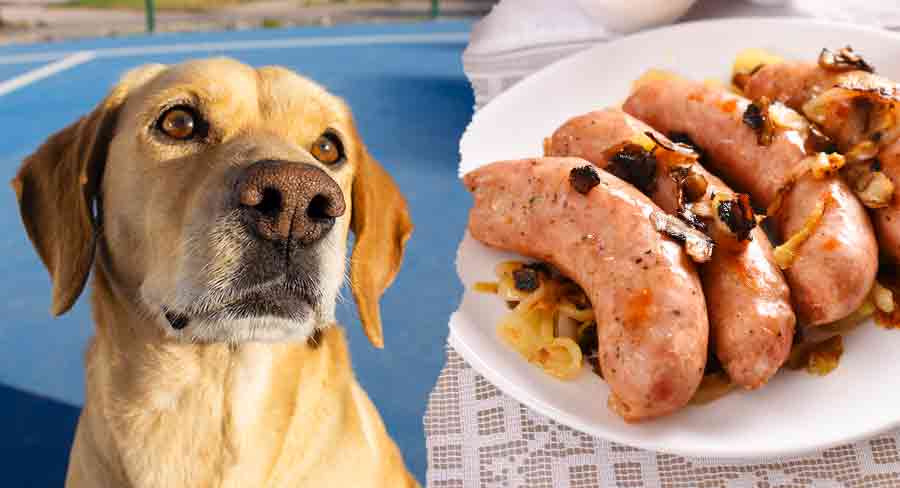 Credit: www.thelabradorsite.com
Can Dogs Eat Sausage Rolls?
The answer is yes, dogs can eat sausage rolls! However, there are a few things you should keep in mind before feeding your dog one of these snacks.
First, sausage rolls contain meat and fat, which can be difficult for dogs to digest. So, it's important to give your dog only a small piece of sausage roll to start with and see how they tolerate it.
Secondly, the doughy pastry around the sausage meat is also not ideal for dogs as it contains refined flour and sugar. So, if you do decide to give your dog a sausage roll, make sure to remove the pastry first.
And finally, remember that all treats should be given in moderation – even healthy ones like sausage rolls! Too many fatty foods can lead to weight gain and other health problems in dogs, so always check with your vet before giving your dog any new food or treat.
Can Dogs Eat Pork Sausages?
As it turns out, there isn't a definitive answer. While pork sausages may not be the healthiest option for your dog, they are unlikely to cause any serious problems if consumed in moderation. However, there are a few things to keep in mind.

First of all, pork sausages often contain large amounts of fat and salt. This can be problematic for dogs who are overweight or have heart conditions. It's important to check the label of any sausage you're considering feeding your dog to make sure it isn't too high in fat or salt.

Secondly, some pork sausages contain spices that may not agree with your dog's stomach. If you notice your dog is having diarrhea or vomiting after eating a pork sausage, it's best to avoid giving them any more and consult with your veterinarian.
Overall, feeding your dog a pork sausage once in awhile probably won't do any harm. Just be sure to monitor their reaction and feed them in moderation!
Can Dogs Eat Sausage from Pizza?
As much as we love our canine companions, there are some foods that just aren't good for them. Sausage from pizza is one of those foods. While a small piece of sausage here and there probably won't hurt your dog, it's not something that should be a regular part of their diet.

Sausage is high in fat and salt, which can be tough on a dog's digestive system. It can also cause pancreatitis, an inflammation of the pancreas. In severe cases, pancreatitis can be fatal.

If your dog does eat sausage from pizza, watch them closely for any signs of illness, such as vomiting or diarrhea. If they seem to be in pain or having trouble breathing, get them to the vet immediately.
While sausage from pizza may not be the best thing for your dog, there are plenty of other foods that they will love just as much (if not more!). So next time you're ordering pizza, skip the sausage and give your furry friend a doggy-safe treat instead.
Conclusion
Dogs can safely eat sausage meat as long as it is cooked thoroughly and without any additional seasonings or ingredients.
Sausage meat is a good source of protein for dogs and can be used as a treat or added to their regular diet.