This is a question that many pet owners ask, and it's one that has some conflicting answers. While some experts say that it's perfectly safe for dogs to consume raw lamb bones, others warn against it, as there is a risk of the bone splintering and causing an internal injury.
Generally speaking, raw lamb bones are safe for dogs to eat. However, it's important to choose bones that are of a suitable size – too big and they could pose a choking hazard, too small and there's a risk of them splintering.
It's also advisable to supervise your dog while they chew on the bone, in case any fragments break off. If you opt to give your dog raw lamb bones, make sure they are part of a balanced diet and don't constitute the entirety of their meals. As with anything else, moderation is key!
What Happens If a Dog Eats a Lamb Bone?
If a dog eats a lamb bone, it can potentially lead to a range of health risks and complications. Bones, including those from lamb, can pose several dangers to dogs:
Choking Hazard: Lamb bones, especially if they are small and sharp, can pose a choking hazard if they get stuck in a dog's throat. This can be a life-threatening emergency that requires immediate veterinary attention.
Splintering: Cooked bones, including lamb bones, can splinter into sharp fragments when chewed or digested. These splinters can cause damage to the dog's mouth, throat, stomach, or intestines, leading to internal injuries and discomfort.
Gastrointestinal Blockage: If a dog swallows a larger bone or bone fragments, it can cause a gastrointestinal blockage. This can lead to symptoms such as vomiting, diarrhea, abdominal pain, and a loss of appetite. A severe blockage might require surgery to remove the obstruction.
Perforation: The sharp edges of bone fragments can perforate the gastrointestinal tract, causing internal bleeding, infection, and other serious complications.
Dental Damage: Chewing on hard bones can lead to dental issues, including cracked or broken teeth.
Given these potential risks, it's generally recommended to avoid giving dogs cooked bones of any kind, including lamb bones. If you want to provide your dog with the benefits of lamb, it's safer to offer lean, cooked lamb meat without bones. Additionally, if you're interested in incorporating bones into your dog's diet, consider consulting your veterinarian for guidance on safe alternatives like specially designed commercial raw bones or chew toys.
Can Dogs Eat Raw Lamb Shanks?
Raw lamb shanks are safe for dogs to eat. In fact, they can be a nutritious part of your dog's diet. Raw lamb shanks are a good source of protein and essential nutrients like omega-3 fatty acids.
They also contain cartilage, which can help keep your dog's joints healthy.
Can I Give My Dog a Lamb Shank Bone?
Yes, you can give your dog a lamb shank bone. The bone will provide them with calcium and other minerals, as well as some protein.
It's important to supervise your dog while they're chewing on the bone, as they could break a tooth or choke on it.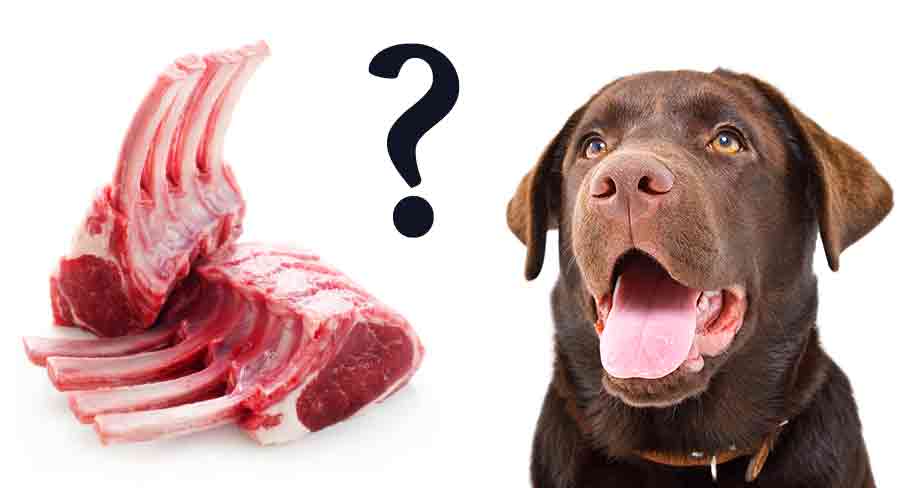 Credit: www.thelabradorsite.com
Can Dogs Eat Lamb Shank Bones?
Lamb shank bones are a great source of calcium and other minerals for dogs. However, they can also be a choking hazard, so it's important to supervise your pup while they enjoy their treat.
Additionally, lamb shanks can splinter and cause internal injuries, so it's best to err on the side of caution and avoid giving them to your dog altogether.
If you do decide to give your dog a lamb shank bone, make sure it's cooked thoroughly and cooled completely before serving.
Can Dogs Eat Cooked Lamb Bones, UK?
The short answer is yes, as long as the bones are cooked properly. Cooked bones can be a great source of nutrition for your dog, providing them with essential minerals and vitamins.

However, it's important to make sure that the bones are cooked correctly before giving them to your pup. Overcooked bones can splinter and break, which can cause serious injuries to your dog's digestive tract.
Additionally, undercooked lamb bones may still contain harmful bacteria that could make your pet sick. The best way to ensure that your dog enjoys safely cooked lamb bones is to prepare them yourself at home.
First, start by boiling the bones in water for 30 minutes. This will help to kill any potentially harmful bacteria. After boiling, bake the bones in a 300 degree oven for an additional 45 minutes.
Once they're fully cooked, let them cool completely before giving them to your four-legged friend.
Frozen Raw Lamb Bones for Dogs?
If you have a dog, chances are you've heard of the benefits of feeding them raw bones. Raw bones are packed with nutrients that are essential for your dog's health, including calcium, phosphorus, and other minerals. They also help to clean your dog's teeth and gums.

One type of raw bone that is especially beneficial for dogs is frozen lamb bone. Lamb bones are a great source of nutrition for dogs, and they're also very tasty! When buying lamb bones for your dog, make sure to get them from a reputable source and that they're properly frozen.

Here at [name of store], we carry a wide variety of raw bones for dogs, including frozen lamb bones. Stop by today and pick up some frozen lamb bones for your furry friend!
Conclusion
As long as the bones are raw, it should be fine for your dog to eat them. Just make sure that you're supervising your dog while they're eating the bones, and that you're giving them plenty of water to drink.