There are a lot of vegetables that are perfectly safe for dogs to eat, and raw cabbage is one of them! This leafy green vegetable is full of nutrients like vitamins A, C, and K, as well as fiber and calcium. All of these nutrients can be beneficial for your dog's health in different ways.

For example, the vitamin C in cabbage can help boost your dog's immune system, while the fiber can help with digestion. And since cabbage is low in calories, it's also a great way to add some extra bulk to your dog's diet without adding any extra fat.
Is Cooked Or Raw Cabbage Better for Dogs?
It is a common misconception that cooked cabbage is better for dogs than raw cabbage. In reality, both cooked, and raw cabbage are healthy for dogs and offer different benefits.
Cooked cabbage is easier to digest for some dogs, especially those with sensitive stomachs. Raw cabbage is a great source of fiber and vitamins A, C, and K, and can help improve your dog's dental health when chewed well.
Is Raw Green Cabbage Good for Dogs?
Yes, raw green cabbage is good for dogs. It is a nutritious vegetable that is low in calories and fat, and high in fiber and vitamins C and K.
Cabbage also contains sulforaphane, a compound that has been shown to have cancer-preventative properties.
Can Dogs Eat Raw White Cabbage?
Yes, dogs can generally eat raw white cabbage in moderation, but there are a few important things to keep in mind:
Digestive Sensitivity: Some dogs might have sensitive stomachs, and introducing a new food like raw cabbage can lead to digestive upset. Start with small amounts and monitor your dog for any adverse reactions.
Chewing and Digestion: Raw cabbage can be a bit tough and fibrous, so make sure your dog chews it well to avoid any choking hazards or digestive issues.
Gas and Flatulence: Cabbage, like many cruciferous vegetables, can sometimes cause gas and flatulence in dogs. This is another reason to introduce it gradually and in small amounts.
Nutritional Benefits: Raw white cabbage is a good source of fiber, vitamins (such as vitamin C), and minerals. It can provide some nutritional benefits to your dog.
Variety and Balance: While raw cabbage can be a healthy treat, it should not replace your dog's balanced and complete dog food. Variety in treats is good, but the main source of nutrition should come from high-quality dog food.
Preparation: Wash the cabbage thoroughly and remove any tough outer leaves. You can shred or chop it into small, manageable pieces for your dog.
Allergies and Sensitivities: Just like with any new food, monitor your dog for allergies or sensitivities. If you notice any itching, gastrointestinal issues, or other unusual symptoms, discontinue feeding cabbage and consult your veterinarian.
Always consult your veterinarian before introducing new foods to your dog's diet, especially if your dog has any existing health conditions or dietary restrictions.
What Vegetables Can Dogs Eat Raw?
Most dogs love vegetables, and they can be a healthy and tasty addition to your pup's diet. While all vegetables are safe for dogs to eat, some are better than others. Here are 10 of the best vegetables for dogs that you can feed them raw:
Carrots – Carrots are an excellent source of beta-carotene, fiber, and vitamins A and C. They're also low in calories, making them a great treat for pups who need to watch their weight.
Broccoli – Broccoli is a nutrient-rich veggie that's packed with fiber, vitamins C and K, and calcium. It's also low in calories, so it's a great way to add volume to your dog's meals without overfeeding them.
Green Beans – Green beans are another low-calorie veggie that provides your pup with essential vitamins and minerals like vitamin C, iron, and potassium. They're also a good source of fiber which can help with digestion.
Celery – Celery is refreshing and hydrating, plus it contains important nutrients like vitamins A and C, potassium, and folic acid. Just remember to remove the strings before feeding it to your dog as they can pose a choking hazard.
Cucumber – Cucumbers are mostly water but they also contain small amounts of fiber, vitamins B6 and C, magnesium, potassium, and manganese. They make a great summer treat that helps keep your pup hydrated while providing them with some essential nutrients at the same time!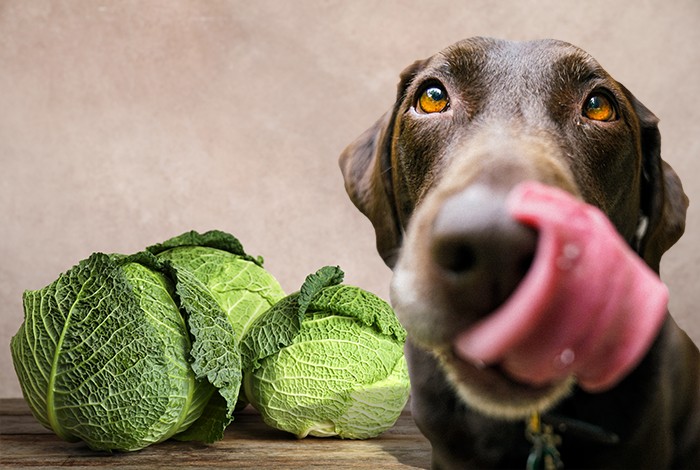 Credit: www.candogseatit.com
Can Dogs Eat Cooked Cabbage?
Cabbage is a leafy vegetable that is part of the cruciferous family, which also includes broccoli, Brussels sprouts, and kale. It is an excellent source of vitamins C and K, as well as fiber. When it comes to feeding your dog cabbage, cooked is always best.

Raw cabbage can be hard for dogs to digest and may cause gastrointestinal upset. When cooking cabbage for your dog, simply steam or boil it until tender. You can then add it to your dog's regular food or feed it as a treat.

If you're feeding your dog cooked cabbage as a treat, start with just a small amount to see how they tolerate it. Some dogs may experience gas or bloating after eating cabbage, so keep an eye on them and cut back on the amount if necessary.
Can Dogs Eat Purple Cabbage Raw?
Yes, dogs can eat purple cabbage raw. In fact, many dog owners choose to feed their dogs raw diets consisting of whole, unprocessed foods like fruits and vegetables.
While there are some risks associated with feeding your dog a raw diet (including the risk of bacteria or parasites), purple cabbage is a safe, healthy option for your furry friend. Just make sure to wash it thoroughly before feeding it to your pup!
Can Dogs Eat Cabbage?
Cabbage is a healthy vegetable for people and dogs alike. It's full of vitamins and minerals, including vitamin C, potassium, and fiber. While most dogs can eat cabbage without any problems, there are a few things to keep in mind.
First, some dogs may be allergic to cabbage. If your dog starts vomiting or has diarrhea after eating cabbage, stop feeding it to them and call your veterinarian. Second, cabbage contains goitrogens, which are compounds that can interfere with the function of the thyroid gland.
Goitrogens can be harmful to dogs with thyroid problems or those who are taking thyroid medication. If you're not sure whether goitrogens will affect your dog, talk to your veterinarian before feeding them cabbage. Finally, raw cabbage is hard for dogs to digest.
It's best to cook it before feeding it to your dog. You can steam or stir-fry the cabbage, or add it to soups or stews. Dogs typically like the taste of cooked cabbage better than raw anyway!
Conclusion
Yes, dogs can eat raw cabbage. Cabbage is a healthy vegetable for dogs and provides many nutrients that are beneficial for their overall health.
Raw cabbage is safe for dogs to eat and is a good source of fiber, vitamins, and minerals.