Cooked turkey can be a suitable addition to a dog's diet, provided it is prepared and offered in the right way. As a lean source of protein, turkey can offer dogs essential amino acids that contribute to their overall health and well-being.
However, there are some important considerations to keep in mind when sharing this poultry treat with your furry friend. First and foremost, it's crucial to offer plain, unseasoned cooked turkey to your dog. Many spices and seasonings that are commonly used in human cooking can be harmful or even toxic to dogs.
To avoid any potential health risks, it's best to avoid adding any flavorings and serve the turkey as is, after it has been thoroughly cooked. Ensuring that the turkey is fully cooked not only makes it more digestible for your dog but also eliminates the risk of harmful bacteria that can arise from undercooked meat.
How Much Cooked Turkey Can a Dog Eat?
This is a tricky question, as it depends on the size and breed of your dog. A good rule of thumb is to start with just a few bites and see how your dog reacts. If they seem to enjoy it and have no tummy upset, then you can gradually increase the amount they eat.
Just be sure not to overdo it, as too much turkey can lead to an upset stomach or even pancreatitis in dogs. And of course, always consult with your veterinarian before making any changes to your dog's diet.
Can Dogs Have Fully Cooked Turkey Breast?
Yes, fully cooked turkey breast can be safe for dogs to consume in moderation. Turkey breast is a lean source of protein that can provide valuable nutrients to your dog's diet.
However, there are some important points to keep in mind when offering fully cooked turkey breast to your canine companion:
Plain and Unseasoned: When sharing turkey breast with your dog, make sure it's plain and unseasoned. Avoid using any spices, herbs, or seasonings that could be harmful or upsetting to your dog's digestive system.
Boneless and Skinless: Ensure that the turkey breast is boneless and skinless. Cooked bones can splinter and cause choking hazards, while the skin is higher in fat content, which might not be ideal for all dogs.
Moderation: While turkey breast is a healthy protein source, it's important to offer it in moderation. Incorporate small portions into your dog's diet as a treat or meal to avoid any potential digestive upset or imbalances in their overall diet.
Allergies and Sensitivities: As with any new food, be cautious when introducing fully cooked turkey breast to your dog. Some dogs may have allergies or sensitivities to poultry, so it's recommended to start with a small amount and monitor for any adverse reactions.
Consult Your Vet: If you're unsure whether fully cooked turkey breast is suitable for your dog, or if your dog has any pre-existing health conditions, consult your veterinarian before adding it to their diet.
Homemade vs. Commercial: If you're offering fully cooked turkey breast as a part of your dog's diet, ensure that their overall nutrition is balanced. If you're preparing homemade meals for your dog, consider consulting a veterinarian or a canine nutritionist to ensure your dog's dietary needs are met.
In summary, fully cooked turkey breast can be a nutritious and tasty addition to your dog's diet when prepared and offered appropriately. By serving plain, boneless, and skinless turkey breast in moderation, you can provide your dog with a protein-rich treat or meal option.
Always prioritize your dog's health and consult your vet if you have any uncertainties about introducing new foods to their diet.
Can Dogs Eat Week Old Cooked Turkey?
No, dogs should not eat week old cooked turkey. Cooked turkey can harbor bacteria that can make your dog sick.
If you think your dog has eaten week old cooked turkey, watch for signs of illness and contact your veterinarian immediately.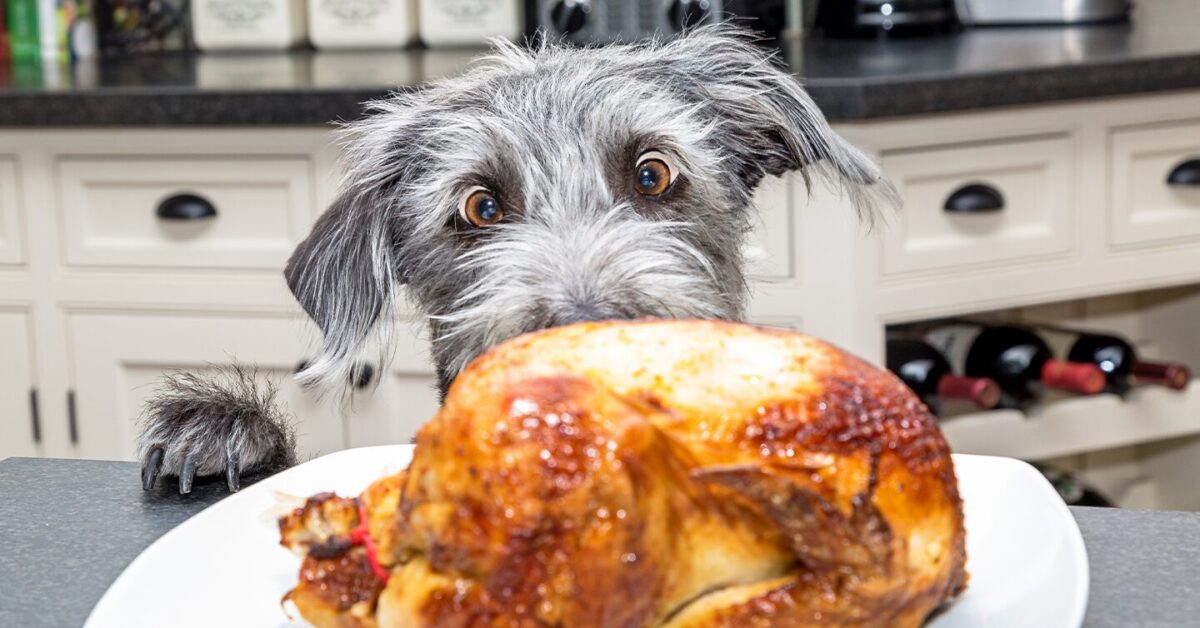 Credit: www.pumpkin.care
Can Dogs Eat Turkey Slices?
Turkey is a safe food for dogs to eat in moderation. When feeding your dog turkey, make sure it is cooked thoroughly and without any added spices or seasoning.
Turkey meat is a lean protein source that can be beneficial for your dog's diet. However, the skin and bones of the turkey should not be fed to dogs as they can pose a choking hazard and splinter easily.
Can Dogs Eat Cooked Ground Turkey?
Turkey is a great source of protein for dogs. It's lean and low in fat, making it a healthy option for dogs who are overweight or have other health problems.
However, cooked ground turkey can be a choking hazard for small dogs, so make sure to cut it into small pieces before feeding it to your pup.
You can add ground turkey to your dog's food as a treat or mix it with their kibble for an extra boost of nutrition.
Does Turkey Give Dogs Diarrhea?
Turkey is a common ingredient in many dog foods, and it is generally considered to be safe for most dogs. However, some dogs may experience diarrhea after eating turkey.
This is usually not a serious condition and will resolve on its own within a few days. If your dog does have diarrhea after eating turkey, you can try feeding them smaller meals more often or adding some probiotics to their diet.
Conclusion
Yes, dogs can eat cooked turkey. In fact, turkey is a great source of protein for dogs and can be a healthy addition to their diet. However, there are a few things to keep in mind when feeding your dog turkey.
First, make sure that the turkey is fully cooked and cooled before giving it to your dog. Turkey that is not cooked properly can be harmful to dogs and may cause them to become sick.
Second, avoid giving your dog too much fat from the turkey as this can lead to pancreatitis.
Lastly, watch out for bones in the turkey as these can splinter and choke your dog or cause other digestive issues. If you follow these simple guidelines, then your dog can enjoy a delicious Thanksgiving feast just like the rest of the family!