Absolutely, dogs can indeed eat cooked carrots as part of a healthy and balanced diet. Cooked carrots are a nutritious option for dogs, offering a variety of benefits. Carrots are rich in vitamins, especially vitamin A and beta-carotene, which are crucial for maintaining good vision, supporting the immune system, and promoting healthy skin and coat.
Cooking carrots can actually enhance their nutritional value for dogs by breaking down the cell walls and making the nutrients more accessible for absorption.
However, there are a few important considerations to keep in mind. Firstly, it's crucial to ensure that the cooked carrots are prepared without any added seasonings, spices, or oils. These additives can be harmful to dogs and might upset their digestive system.
Additionally, while cooked carrots are generally safe, they should be given in moderation. Too many carrots, even cooked ones, could lead to digestive issues due to their high fiber content.
How Much Cooked Carrot Can a Dog Eat?
Assuming you're referring to cooked, peeled carrots, dogs can have up to 2-3 ounces per day. Keep in mind that this is in addition to their regular dog food intake and not as a replacement for meals. Too many carrots can cause digestive upset in dogs, so it's important not to overdo it.

Carrots are a great source of vitamins A, B6, C, and K, as well as fiber and potassium. They also contain beta-carotene, which is converted into vitamin A in the body and is essential for healthy eyesight. For all of these reasons, carrots make a healthy treat for your dog.
Health Benefits of Cooked Carrots for Dogs
Cooked carrots can provide several health benefits for dogs when incorporated into their diet in moderation:
Nutrient-Rich: Cooked carrots are a great source of essential nutrients, particularly vitamin A and beta-carotene. Vitamin A plays a crucial role in maintaining good vision, promoting a healthy immune system, and supporting skin and coat health in dogs. Beta-carotene, a precursor to vitamin A, is a potent antioxidant that helps protect cells from damage and supports overall well-being.
Digestive Health: The fiber content in cooked carrots can aid in promoting healthy digestion for dogs. Fiber helps regulate bowel movements and can prevent constipation. It also supports the growth of beneficial gut bacteria, contributing to a balanced digestive system.
Oral Health: Chewing on cooked carrot pieces can help mechanically clean a dog's teeth and gums, reducing the buildup of plaque and tartar. This natural abrasive action can contribute to better oral hygiene and fresher breath.
Weight Management: Cooked carrots are low in calories and fat while being high in fiber. This makes them a suitable option for dogs that need to manage their weight. The fiber content can help dogs feel full without consuming excessive calories.
Antioxidant Protection: The antioxidants present in cooked carrots, including beta-carotene and vitamin C, can help neutralize harmful free radicals in a dog's body. This protection against oxidative stress contributes to the overall health and longevity of the dog.
Immune System Support: The combination of vitamins and antioxidants in cooked carrots can bolster a dog's immune system, helping the body fight off infections and illnesses more effectively.
Skin and Coat Health: The beta-carotene in cooked carrots is not only beneficial for a dog's eyes but also contributes to healthy skin and a shiny coat. Adequate beta-carotene intake can help alleviate dryness and itching.
Blood Sugar Regulation: The fiber content in cooked carrots can help regulate blood sugar levels in dogs. This is particularly important for dogs with diabetes or those prone to blood sugar spikes.
Cancer Prevention: While not a definitive solution, the presence of antioxidants in cooked carrots has been associated with a reduced risk of certain types of cancer in dogs. These antioxidants help protect cells from mutations that can lead to cancer development.
Hydration: Cooked carrots have a high water content, contributing to a dog's overall hydration, especially during hot weather or after physical activity.
Remember that while cooked carrots offer numerous benefits, they should be used as a supplement to a well-balanced dog diet. Moderation is key, as excessive carrot consumption can lead to gastrointestinal upset due to their high fiber content. Before introducing new foods into your dog's diet, consult your veterinarian, especially if your dog has specific dietary needs or health conditions.
Are Cooked Carrots Easy for Dogs to Digest?
There are a lot of things to consider when it comes to feeding your dog cooked carrots. While they may be easy for us to digest, dogs have different digestive systems that can sometimes have trouble breaking down certain foods. If you're considering cooked carrots as part of your dog's diet, here are a few things to keep in mind.
First, cooked carrots should be given in moderation. Like with any new food, start by giving your dog only a small amount at first to see how they react. Some dogs may have no problems digesting cooked carrots while others might experience some gastrointestinal upset.

Watch for signs like vomiting or diarrhea and if your dog seems to be having any trouble, stop feeding them the carrots and consult with your veterinarian.
Second, make sure the carrots are properly cooked before feeding them to your dog. Raw carrots can actually be hard for dogs to digest and may cause stomach upset. Cooked carrots should be soft enough for your dog to eat easily but not so mushy that they fall apart.
Steaming or boiling the carrots until they're soft is usually the best way to cook them for dogs. And finally, remember that even though cooked carrots may be easy for some dogs to digest, they're still a high-calorie food so don't overdo it! Feeding too many carrot treats could lead to weight gain so just give them in moderation as part of a healthy diet.
Are Cooked Carrots Better Than Raw for Dogs?
There are pros and cons to feeding both cooked and raw carrots to your dog. Ultimately, it is up to you as the pet owner to decide what is best for your furry friend. Here is a breakdown of the benefits and drawbacks of each option:

Cooked Carrots:
Pros: Cooked carrots are easier for dogs to digest than raw carrots. This is because cooking breaks down the indigestible cellulose in vegetables, making them more nutrient-dense and easier on your pup's stomach.
Additionally, cooked carrots retain more vitamins and minerals than raw carrots due to the loss of water during the cooking process.
Cons: Some people believe that cooking destroys vital enzymes in vegetables that are important for good health. Cooking also reduces the levels of some vitamins, such as vitamin C.
If you choose to feed your dog cooked carrots, make sure they are thoroughly cooked so they do not present a choking hazard.

Raw Carrots:
Pros: Raw carrots contain more fiber than cooked carrots, which can be beneficial for dogs who need help regulate their digestive system. Raw fruits and vegetables also contain higher levels of vitamins and minerals than their cooked counterparts.
Feeding your dog raw carrots will give them a healthy dose of Vitamin A, which is important for vision, skin health, and immunity.
Why Can't Dogs Eat Carrots?
There are a few reasons why dogs shouldn't eat carrots. For one, carrots contain high levels of sugar, which can lead to weight gain and other health problems in dogs. Additionally, carrots are hard for dogs to digest, and can cause intestinal blockages or other digestive issues.

Finally, carrots may contain toxins that can be harmful to dogs. If you do feed your dog carrots, be sure to do so in moderation and consult with your veterinarian first.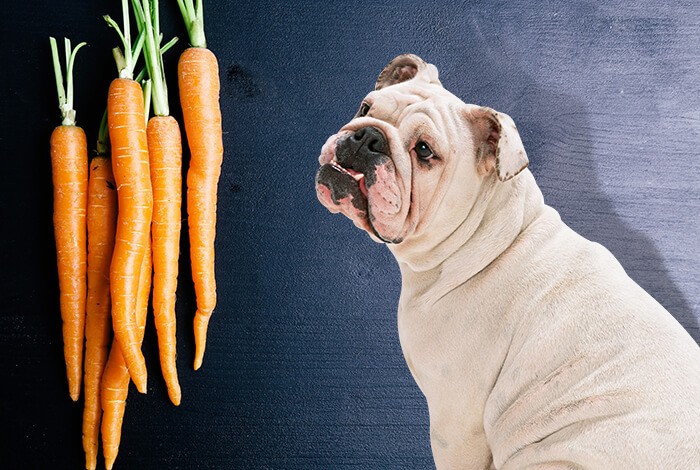 Credit: www.candogseatit.com
Can I Give My Puppy a Carrot for Teething?
As your puppy's teeth begin to come in, you may be wondering if it's okay to give them a carrot for teething. The answer is yes! Carrots are an excellent source of nutrition for puppies and can help soothe their gums as they teethe.
Carrots are packed with vitamins and minerals that are essential for growing puppies, including vitamin A, potassium, and fiber. They're also low in calories and fat, making them the perfect healthy snack for your pup.
To give your puppy a carrot, simply wash one thoroughly and cut it into small pieces. You can offer the pieces to your puppy raw or cooked – both are perfectly safe. If you opt for cooked carrots, be sure to let them cool completely before giving them to your pup to avoid any risk of burns.
Can Dogs Eat Raw Carrots?
Raw carrots are a healthy, crunchy snack for dogs. They are packed with nutrients like fiber, vitamin A, and potassium. Carrots can help clean your dog's teeth and provide them with a healthy dose of antioxidants.
However, raw carrots should be given in moderation as they can cause gastrointestinal upset if your dog eats too many at once. When feeding your dog raw carrots, make sure to wash them thoroughly first and cut them into small pieces to avoid choking hazards.
Conclusion
Yes, dogs can eat cooked carrots. In fact, carrots are a healthy treat for dogs and provide them with many nutrients like fiber, vitamin A, and beta-carotene.
Just be sure to cook the carrots properly before feeding them to your dog to avoid any potential choking hazards.