Dogs can safely eat turkey meat, but there are a few things you should keep in mind before sharing your Thanksgiving feast with your pup.

Turkey skin is high in fat and can cause digestive issues for dogs. So, it's best to remove the skin before feeding your dog any turkey. Also, watch out for bones!

Turkey bones can splinter and cause damage to your dog's digestive tract. Give your dog only boneless, cooked turkey meat as part of their Thanksgiving feast.
As long as you follow these simple guidelines, your dog can enjoy all the same deliciousness of Thanksgiving dinner that you do!
What Happens If a Dog Eats Turkey?
If a dog eats turkey, it can lead to a range of outcomes depending on various factors, including the amount of turkey consumed, the dog's size, and whether any bones or seasonings were ingested. Turkey itself is not inherently toxic to dogs, but there are certain considerations to keep in mind:
Cooked Turkey: Plain, cooked turkey (without bones, skin, and seasoning) can be safe for dogs in small amounts. It can even be a protein-rich treat or an ingredient in their dog food. However, fatty or heavily seasoned preparations can lead to digestive upset, including vomiting and diarrhea.
Bones: Turkey bones can pose a significant danger to dogs. Cooked bones are brittle and can splinter, causing a risk of choking, intestinal blockage, or damage to the digestive tract. It's crucial to ensure that your dog does not ingest any bones.
Seasonings and Ingredients: Onions, garlic, and certain spices often used in turkey dishes can be toxic to dogs and should be avoided. High-fat or heavily spiced foods can cause gastrointestinal distress and pancreatitis, a painful inflammation of the pancreas.
Gastrointestinal Upset: Even if the turkey is plain and cooked, some dogs may have sensitive stomachs, leading to vomiting or diarrhea if they consume it. Introduce new foods slowly and in small quantities to monitor your dog's reaction.
Pancreatitis: Fatty foods like turkey skin and gravy can trigger pancreatitis, an inflammation of the pancreas. Pancreatitis is painful and can be serious, requiring veterinary care.
Allergic Reactions: Some dogs can be allergic to turkey or certain components of it, leading to symptoms like itching, skin rashes, or digestive issues.
If your dog has eaten turkey and you're concerned, here's what you can do:
Assess the Situation: Determine the quantity and type of turkey consumed, along with any other ingredients or seasonings.
Monitor Your Dog: Keep an eye on your dog for any signs of distress, including vomiting, diarrhea, lethargy, or changes in behavior.
Contact a Veterinarian: If your dog shows any signs of distress, consult your veterinarian for guidance. They can provide tailored advice based on your dog's health and the specific situation.
Prevention: To avoid potential issues, it's best to feed your dog plain, cooked, and boneless turkey in moderation. Avoid giving them any bones, skin, or heavily seasoned or fatty portions.
Remember, every dog is unique, and their reactions to food can vary. When introducing new foods, especially those not typically part of their regular diet, it's important to do so gradually and under the guidance of your veterinarian to ensure your dog's safety and well-being.
Can Turkey Upset a Dog's Stomach?
Turkey is a common ingredient in many dog foods, so it's unlikely that it would upset your dog's stomach. However, if your dog has never eaten turkey before, it's best to introduce it slowly.
Start by mixing a small amount of turkey with your dog's regular food. If they seem to have no problems after a few days, you can increase the amount of turkey you give them. As always, make sure to consult with your veterinarian before making any changes to your dog's diet.
How Many Turkeys Can I Feed My Dog?
The answer depends on a few factors, including your dog's size, age, and activity level. For most dogs, a small amount of turkey is fine as an occasional treat. However, if you're feeding your dog a lot of turkey or using it as the main protein source in their diet, there are a few things to keep in mind.
First, make sure the turkey you're feeding is cooked thoroughly. Raw poultry can contain harmful bacteria that can make your dog sick.
Second, avoid giving your dog too much fat from the turkey skin or gravy. Too much fat can cause pancreatitis in dogs, which can be fatal.
If you're unsure about how much turkey to feed your dog, talk to your veterinarian for advice. They can help you create a healthy diet plan that includes the right amount of protein and other nutrients for your pup.
Can Dogs Eat Turkey Slices?
Turkey is a common ingredient in many dog foods, so you might be wondering if it's safe for your dog to eat turkey slices. The answer is yes, dogs can safely eat turkey slices. However, there are a few things to keep in mind.
First, make sure the turkey slices you give to your dog are cooked and not raw. Raw poultry can contain harmful bacteria that can make your dog sick. Cooked turkey is safe for dogs to eat.

Second, avoid giving your dog turkey skin as it can be high in fat and difficult for them to digest. Stick to leaner cuts of meat like the breast or thigh. And finally, don't overdo it!

While turkey is safe for dogs to eat, it should only be given in moderation as part of a well-balanced diet. Too much of any one food can cause digestive problems or weight gain.
So give your pup a few small Turkey slices as a treat every now and then – they'll love you for it!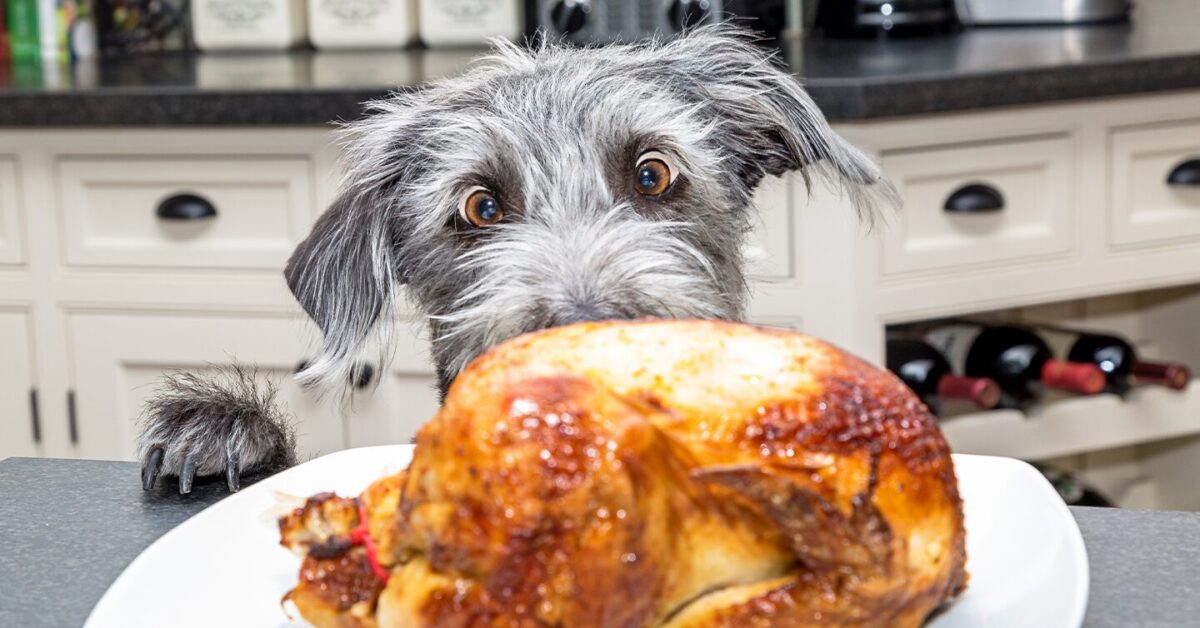 Credit: www.pumpkin.care
Does Turkey Give Dogs Diarrhea?
Turkey is a common cause of diarrhea in dogs. The most likely culprit is the bacteria Clostridium perfringens, which is found in turkey meat.
Symptoms usually start within 12 hours of eating and can include vomiting, diarrhea, abdominal pain, and fever. Treatment is typically with antibiotics and supportive care. Prevention is through proper cooking of turkey meat.
Does Turkey Make Dogs Sleepy?
Turkey is a common ingredient in many dog foods and is often given to dogs as a treat. However, some people believe that turkey makes dogs sleepy.
There is no scientific evidence to support this claim, but it may be due to the fact that turkey contains tryptophan, an amino acid that promotes sleepiness.
So, if your dog seems sleepy after eating turkey, it's likely due to the tryptophan and not because the turkey itself is making them tired.
Can Dogs Have Thanksgiving Turkey?
The answer is maybe. While turkey is generally safe for dogs to eat, there are a few things to keep in mind before sharing your meal with your four-legged friend.
First, turkey skin can be tough on a dog's digestive system. In addition, fatty foods like turkey skin can cause pancreatitis in dogs, so it's best to avoid giving them any skin off your bird.
Second, any bones in the turkey should also be avoided as they could splinter and cause an internal injury. Instead, opt for some lean white meat or dark meat that has been cooked until it's fall-off-the-bone tender.
And finally, don't forget about those all-important side dishes! Dogs shouldn't eat anything with onions or garlic in it as these can be toxic to them.
Other no-no's include grapes/raisins (which can cause kidney failure), nuts (which can cause gastrointestinal distress), and chocolate (which contains caffeine and theobromine which are both poisonous to dogs).
Conclusion
The answer is yes–in moderation. Like all good things, turkey should be given to your dog in small quantities. Too much turkey can cause an upset stomach or even pancreatitis in dogs.
When feeding your dog turkey, make sure it is cooked and free of bones. You can give your dog some skin as well, but avoid the fatty meat and gravy. A little bit of plain, roasted turkey is a safe and healthy treat for your pup this holiday season!