Mice are naturally scared of dogs. Dogs are predators and mice are their prey. This instinctive fear helps keep mice safe from being eaten by dogs.
However, not all dogs pose a threat to mice. Some dogs have been trained to hunt and kill rodents, while others simply chase them for fun.
And even the friendliest dog can be scary to a mouse if it's big enough and coming at them quickly.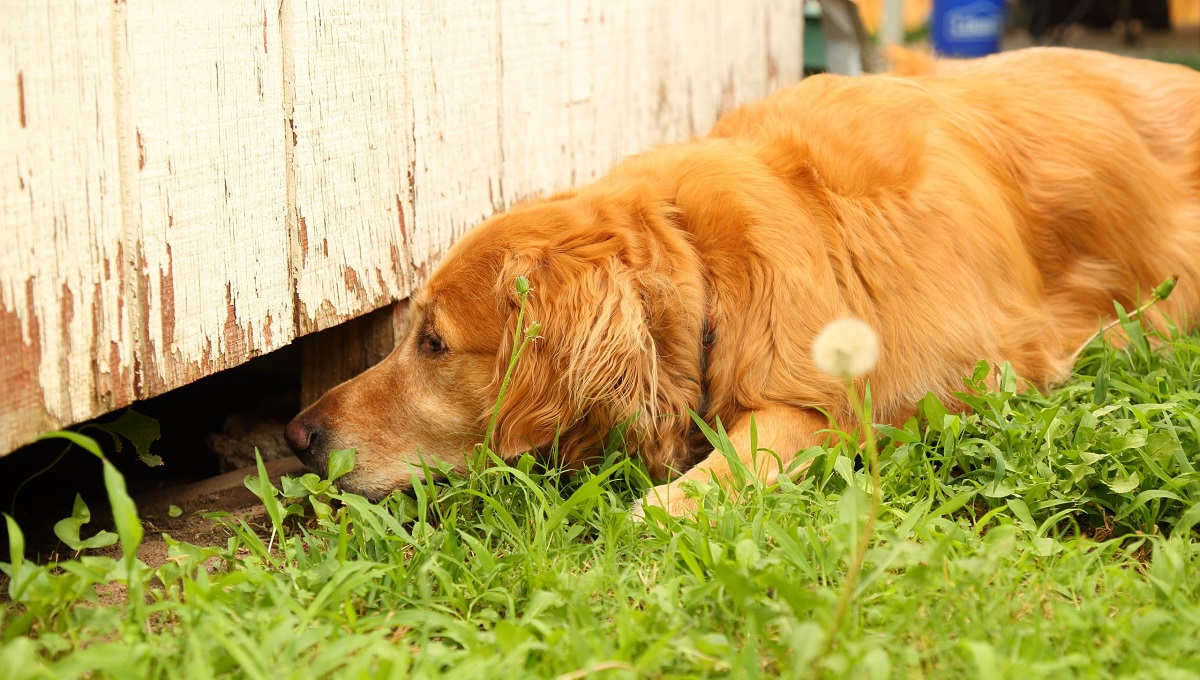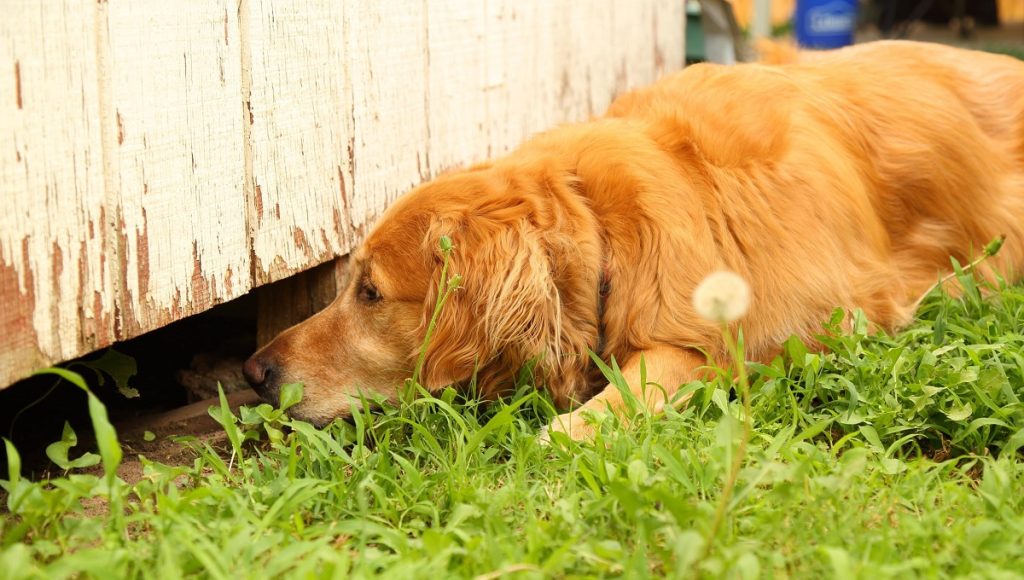 Will a Dog Scare Away Mice?
There are a variety of ways to deter mice, and using a dog may be one of them. Mice are timid creatures and will likely avoid an area where there's a lot of activity or noise – such as from a barking dog.
While dogs can help to keep mice away, it's important to remember that they're not foolproof. Mice can still enter homes through small cracks and holes, so it's important to take other measures as well – such as sealing up any entry points and removing food sources that might attract them in the first place.
Can Dogs Sense Mice in the House?
Yes, dogs have a keen sense of smell, and they can often detect the presence of mice or other small rodents in the house. Dogs' olfactory senses are much more developed than those of humans, allowing them to pick up scents at extremely low concentrations.
Mice have a distinct odor, and a dog's sense of smell allows them to detect the scent of mice, even if the rodents are hiding or not easily visible. Some dogs are specifically trained to work as pest control, using their sense of smell to locate and identify pests.
It's important to note that not all dogs will have the same level of interest or ability to detect mice. Some breeds, such as terriers, are known for their strong prey drive and may be more inclined to seek out small animals. Additionally, individual dogs may vary in their sensitivity to different scents.
Are Mice a Danger to Dogs?
Mice, in and of themselves, are generally not a direct danger to dogs. Interactions with mice or exposure to areas where mice are present can pose certain risks to dogs. Mice can carry diseases, and parasites, and may consume substances that can be harmful to dogs.
One concern is the potential transmission of diseases. Mice can be carriers of various diseases, such as Leptospirosis and Hantavirus, which can pose a risk to both humans and animals.
If a dog comes into contact with mice or their droppings, there is a possibility of disease transmission. It's crucial to ensure that your dog's vaccinations, including those for preventable diseases, are up-to-date.
Another risk is the use of rodenticides or poisons. Many people use rodenticides to control mouse populations, and these substances are often highly toxic to dogs.
Do Mice Dislike Dogs?
Mice and dogs have a long history of conflict. Mice are often seen as nothing more than pests, while dogs are revered as loyal companions. It's no surprise, then, that mice would be wary of dogs.
Dogs are predators, and mice are their prey. In the wild, dogs will kill and eat mice if they can catch them. This natural instinct to hunt and kill is still present in domestic dogs, even though they may never have the opportunity to actually do so.
Mice can smell a dog's predatory instincts, and this makes them very afraid of dogs. They will go to great lengths to avoid getting anywhere near a dog, including hiding in their nests or burrows.
Are Mice Dangerous to Dogs?
Most people are familiar with the popular image of a cute little mouse running around in a house. However, many people don't realize that mice can actually be dangerous to dogs. Mice carry diseases that can be transmitted to dogs, including rabies and hantavirus.

Mice can also bite dogs, which can lead to infection. In addition, mice often leave behind urine and feces that can contain harmful bacteria. If you have a dog and you suspect there may be mice in your home, it's important to take action immediately.
Take steps to seal up any openings where mice could enter your home, and consider using traps or poison to get rid of them. If you do find a dead mouse, dispose of it carefully so that your dog cannot access it.
Are Mice Afraid of Dogs Barking?
Mice are small, timid creatures that are easily frightened. When they hear a loud noise, like a dog barking, they will usually try to hide. Mice are also very sensitive to vibrations, so if a dog is barking nearby, they may feel threatened and try to flee the area.
How Do Dogs React to Mice?
Dogs typically react to mice with a combination of curiosity, excitement, and instinctual behavior. The reaction can vary widely among individual dogs and may depend on factors such as the dog's temperament, breed, and previous experiences.
Curiosity: Many dogs are naturally curious animals, and the presence of a mouse can pique their interest. They may exhibit behaviors such as sniffing, investigating, and closely watching the mouse.
Chasing Instinct: Dogs have a strong instinct to chase moving objects, and mice, being small and quick, can trigger this instinct. Some dogs may engage in playful or predatory behavior, attempting to catch or "hunt" the mouse.
Excitement: The sight or scent of a mouse can create excitement in some dogs. Their senses may be heightened, and they may display signs of alertness and energy.
Barking: Dogs may bark at mice as a way of expressing their excitement, alerting their owners to the presence of something unusual, or attempting to intimidate the small intruder.
Hunting Behavior: Certain breeds, especially those with strong hunting instincts, may exhibit more intense reactions. Breeds such as terriers, known for their history as hunters, may be particularly motivated to pursue mice.
Conclusion
No, mice are not scared of dogs. They seem to be quite fond of them! Dogs provide a warm and cozy place for mice to nest, and the dog's body heat helps keep the mice warm in winter. Dogs are a good source of food for mice, all that kibble and scraps from the dinner table!